Techie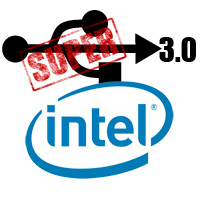 s, today might not be a good day for some of you.  Get ready to pull out your hair, pound on your innocent electronics and shed some virtual tears:  Intel's USB 3.0 is delayed once again!  The chipset technology was first promised to the public for a 2010 release.  Well that didn't happen, and they pushed it back to 2011.  Those empty promises have now taken new shape; their USB 3.0 will likely not make its way into host controllers until 2012, according to Tech-On.
An Intel chip engineer also divulged that the market for USB 3.0 "will explode" in 2012.  Could this statement signal the final delay of USB 3.0 by its chipmaker?  Intel is not saying a whole lot more on the subject matter, but they are alleging that one million USB 3.0 boards have been shipped to manufacturers.  On the other hand, some motherboard makers have started shipment of USB 3.0 host controllers from companies like Renasas Electronics, with the technology's standards group, USB-IF eager to start growing the market with existing USB 3.0 chips.
So what gives Intel?  It's speculated that the chip giant may be dragging its feet thanks to the highly buzzed about debut of Light Peak, a high bandwidth optical cable technology also developed by Intel.  Can you say, "conflict of interest"?  The debate lingers on whether this will help or harm USB 3.0, but this latest delay may not be doing much to calm the nerves of 3.0 supporters.
It's a bit unbelievable that Intel has enough monopoly on this technology that everyone is waiting solely on them with bated breath to mainstream the interface.  Motherboard makers like Gigabyte, Asus and Asrock are trying to jumpstart USB 3.0 without help from the chip leader.  However, without Intel, it may be hard to streamline standards and specs for consumers and other manufacturers.  Too many questions, very few answers.  Needless to say, the end of this chapter is not over quite yet.
How do you feel about the latest obstacle for USB 3.0?