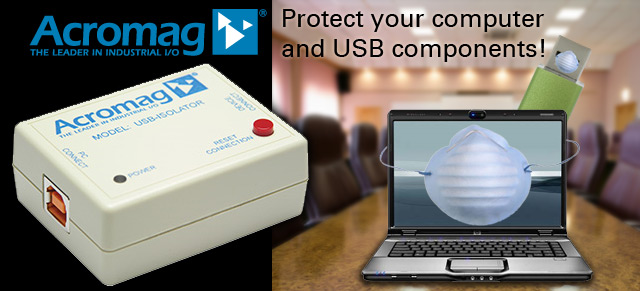 It's a small box that could make a big difference. Multi-million dollar measurement and control company Acromag has recently released its Acromag USB-Isolator, a device that safeguards computers and peripherals against the unexpected surges, voltage spikes and noise that can cause irreparable damage and errors in the equipment that we use.
Isolators work by receiving power from the USB computer port it's plugged into and isolates power to the connected device. The self-powered Acromag device does not require the installation of any USB drivers, software or any other type of configuration. The electrical separation between the computer and USB device is accommodated up to 1500V AC/2100V DC. Additionally, its integrated surge suppression handles up to 8kV at each port.

The USB isolator's LED light reveals the current state of the plugged-in peripherals. Green means the isolator is receiving 5V of power from the USB port. A flashing light indicates that short-circuiting may be occurring and it will automatically retry the power isolation to protect against it.
Its compact and sturdy design helps to weather the electrical conditions and various environments it could encounter. The device's USB sockets carry some high retention so that shock or movement will keep cables anchored in place. The isolator box can also operate in a wide range of temperatures between -40 degrees Fahrenheit to 158 degrees Fahrenheit.
Acromag's marketing director points out that "our new industrial-grade isolator combines high-voltage protection with special features like a manual reset button and selectable data transfer rates to add more value for demanding applications."
The use of a USB isolator will not only protect your at-home electronics and data but its industrial strength may also be critical in other settings. For example, a USB isolator could play an important role in hospitals and medical offices when it comes to patient care and the safety in the operation of the equipment used on individuals. These isolators can also be implemented in government or hospitality settings where sensitive information is vital to day-to-day business and would suffer in the event of electrical interruptions to their computers.
The Acromag USB-Isolator supports USB 2.0 and 1.1 and retails for $99 here in the U.S. Prices will vary from country to country.
How do you think a USB isolator would help you? Do you think it's important to have one? Tell us what you think.