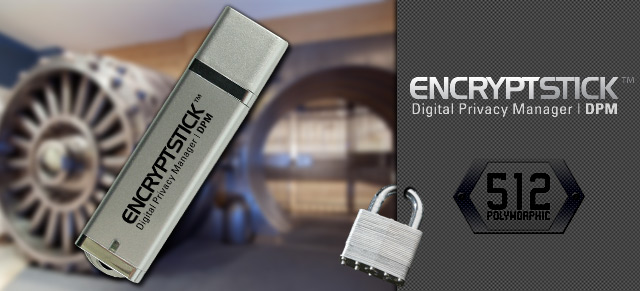 We hear more stories everyday about USB flash drives being the perfect vehicle for the theft of private information. Additionally, according to FBI statistics, laptop thefts total millions of lost dollars every year and only 2 to 3 percent of those stolen are ever recovered, leaving your personal information in the hands of thieves.
One company is trying to combat that with the fail-proof safety of their USB software; EncryptStick takes your vulnerable flash drives and secures and manages sensitive files by keeping them away from prying eyes.
EncryptStick's speedy algorithm operates on a 512 bit polymorphic encryption. This type of encryption gives millions of variables that are more difficult for hackers to analyze and crack compared to conventional single encryption algorithms. Each application you have is given a unique polymorphic encryption system, giving hackers no single system to focus on. The EncryptStick USB software has yet to be cracked by outside cryptanalysts and hackers.
The software can simply be downloaded to the flash drive or preloaded by EncryptStick onto one of their 4GB USB flash drives. Not only does their encryption system make files and USB applications impenetrable, but it also offers virus protection, password management and an emergency "military wipe function" to permanently delete any compromised computer files. EncryptStick is supported by both Windows and Mac operating systems.
As intellectual thefts and online threats surface at faster rates in our computer age, one corporation according to Reuters is even considering a merger with the USB encryption software company. US Wireless Online, Inc is a company that promises safe and secure disposal of electronic waste, therefore making them a natural partner with the digital security experts of EncryptStick.
We have so much of the information that builds our lives dangling out in digital space for thieves and hackers. Think of all of the logins and passwords you have that lead straight to your personal, financial or even medical information. Taking this into consideration, some kind of heavy duty encryption for your USB flash drive or laptop may be worth a closer look for your privacy.
Would you consider protecting your flash drives with encryption software? Weigh in below.