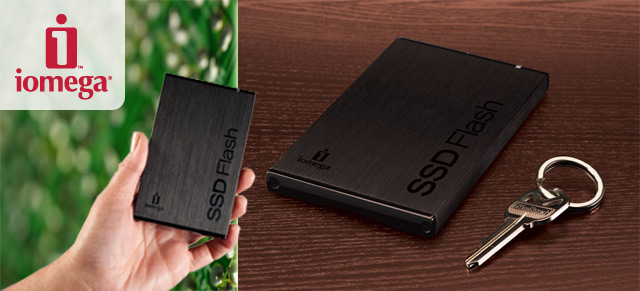 By appearances, it resembles a cross between a sleek black wedge of metal and a pack of gum.  In reality, it's global storage leader Iomega's latest SuperSpeed solution:  the Iomega External USB 3.0 SSD flash drive in 64 GB, 128 GB and 256 GB flavors.
The true importance of such a high-capacity flash drive could be the notion that it expands the market in digital storage options.  No longer is data portability or flash technology confined to a 16 or 32 GB USB thumb drive, nor do today's options only leave you with a spacious yet longevity-challenged magnetic hard drive for your growing library of videos, music, pictures and precious files.
Its compact yet rugged design could appeal to the creative pro on-the-go.  When you don't want to separate your data from you or your carry-on, the SSD flash drive is small enough to fit in a tight space and conform to airline standards when it comes to electronic gear.
The pocket-sized stature of the SSD drive contradicts not only its storage capacity, but its lightning fast speed, courtesy of USB 3.0 connectivity.  According to Iomega, its SuperSpeed function is ten times faster than USB 2.0 and works at more than double the speed of a USB 3.0 7200 RPM SATA hard drive.
You won't need a separate power source to use the SSD flash drive.  It's flexible in its use with backward compatibility in 2.0.  If you want to optimize a SuperSpeed connection with native use, you can purchase an adapter sold separately by Iomega.
Other important features to note include a 256-bit encryption system for your security and privacy, Iomega's QuikProtect software for scheduled backups to hard drives and NAS devices as well as MozyHome online backup service for easy cloud storage data access.
One standout program Iomega added to the SSD flash drive is v.Clone.  This application creates an identical virtual image of your computer and copies it to your drive.  This means that it will feel like you're working in your own settings, applications and files, only it will be used straight from the USB drive.
Retail pricing starts at $229 for 64 GB.  The 128 GB version is $399, 256 GB will set you back $749.  The product will be available in November.
Would you pay the price for such storage, features and speed?  Tell us where Iomega's USB 3.0 SSD flash drives ranks in your list of digital importance.