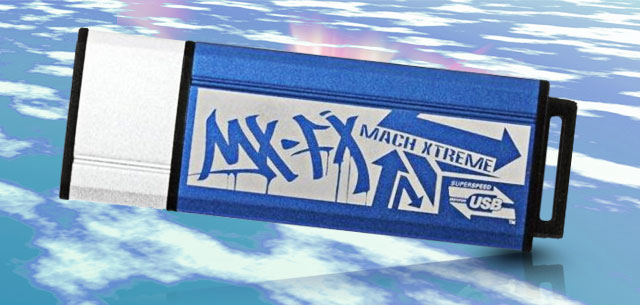 One of the newer flash memory companies on the block—Mach Xtreme Technology—is striving to keep up with the demand of bigger, better, faster consumer products with a newly released SuperSpeed device: the Mach Xtreme MX-FX USB 3.0 16GB flash drive.
Founded only in January 2010, this Taiwanese-based tech company is slowly garnering international buzz and awards for products like solid state drives, memory modules and flash drives. The 16 gigabyte drive marks an extension of the MX-FX series that already boasts 32GB and 64GB versions that debuted back in June of this year. The smallest flavor still boasts more than enough data storage for the average user—thousands of songs and photos, countless documents or several hours of video can fit on 16 gigs—except at a size better suited for daily storage applications (not to mention it's likely to be more wallet friendly than its larger counterparts).
What strikes you first about not only the drive and even the company's website is its appearance. Their standard look is beyond the norm compared to the bland, structured style of most industry players. Both the USB 3.0 and the website are splashed with playful colors, graffiti-like font and paint splatter patterns. The MXFX flash drive features the graffiti fonted logo along with a slick industrial design in light blue and slate gray.
The flash drive has a tough-as-nails exterior; it is shock and vibration-proof to withstand any sort of heavy, prolonged transport or rough handling. Thanks to its SuperSpeed capabilities, this USB drive uses bidirectional data transferring to achieve lightning fast theoretical speeds of 125 megabytes per second for reading and 55 megabytes per second for writing. These drives are also built with MLC (multi level cell) flash technology.
Supported by your Windows operating system, the MX-FX thumb drive is also backward compatible with the ports and speeds of USB 2.0. No separate power cables are needed for use. The 16GB flash drive is guaranteed by a three year warranty.
Mach Xtreme distributes worldwide and this drive should be coming soon to the U.S. but can currently be purchased in Europe for less than 100 euros. Online retailers and distributors are also available in Asia.
So, the verdict? Do you think the expansion of Mach Xtreme's USB 3.0 thumb drive is a serious contender for flash drive products and this freshman company in general? We'd love to hear your input!