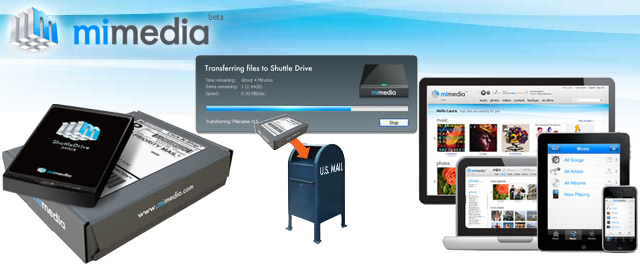 Online backup service, or cloud storage—while innovative and flexible in its access—can be lengthy in its initial user setup because of the limitations of broadband. To upload your hundreds or thousands of video, audio and other files to online storage servers can take weeks or in some cases months to complete. This length of time can be a big deterrent to even attempt this form of backup at all.
A new online backup company called MiMedia, which is in the final stages of beta testing its services, aims to speed up your upload process by bringing an old-fashioned concept to cutting-edge storage: send your data via USPS' snail mail for a complete data upload in a fraction of the time it takes you from your home or office.
Intrigued, right? Here's more details on how it works.

First, you download and run MiMedia's application on to your desktop and register for your online account. From there, MiMedia mails you a palm-sized USB drive, dubbed the Shuttle Drive. The storage size of the drive will vary depending on the needs you specify when registering. You can store anywhere from 25 GB to 2 TB with MiMedia on your account.
The USB drive arrives to your doorstep packed with everything you need to use it, like a USB cable and connectors. The Shuttle Drive is loaded with NSA-level encryption so that you don't have to feel uneasy about sending your personal files through the mail system. Your download of data from PC to drive may take a few hours depending on your computer's capabilities.
Next, put the drive and cables in the pre-stamped and addressed box provided by MiMedia. Once the drive has been received by the company, it'll load your data in just hours. You'll get an email notification within a few days detailing that your files are ready to access online through your account.
Your data will be organized for you into files and folders. Any additional data you want to store at a later time will be backed up from your own broadband connection.
According to a well-detailed review in USA Today, while the Shuttle Drive is a major benefit, the service as a whole has some room for improvement. The article states that the search options are lacking, making it difficult to instantly find a specific song or album. Additionally, the service will not play any of your DRM-protected files. Currently, MiMedia only has a PC version.
Service comes at a price, but for some it could be worth protecting and preserving precious memories or sensitive files. It'll cost you $5 per month or $50 per year for 25 GB, $39 per month or $375 per year for 500 GB or $140 per month or $1,300 per year for 2 TB.
What do you think of MiMedia's venture? Do you dig the idea of speedy shuttle service with a mail-in USB drive?