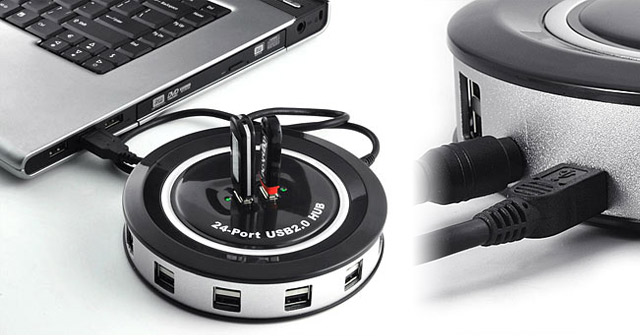 Halloween may still be more than a week away, but we've got a monster to show you that's bound to pique your technological interest. No, it's not a monster of the hairy or one-eyed persuasion, but an electronic one that may prove to make your peripheral use easier. Meet the 24 Port USB Monster Hub.
Just when you thought four or seven ports were enough to handle your USB devices along comes this monster. Maybe you had only planned to purchase additional hubs to recreate USB's tiered star topology for all of your geeky gadgets. Now, just one hub with 24 ports may be enough for you. Furthermore, it can still daisy-chain up to the standard 127 USB devices at once.

Two dozen USB ports are made possible with its circular shape (and undoubtedly where Think Geek derives the hub's nickname, Wheel of Fortunate Availability). This design allows each device enough room to steer clear of the others to optimize the use of every port while maintaining a compact functionality that's often required from a computer area's limited spacing and storage.
The hub is versatile in its power usage, working with USB from your computer or an AC power outlet. As a standalone device, it's an ideal all-in-one charger for electronics including phones, cameras and MP3 players. It supports USB 2.0 high speed capabilities with 480 Mbps. Another specification of the monster USB hub is its ability to automatically implement over-current protection for each port.
Similar to only the best hubs and ports, its hot swappable plug-and-play function means that you don't have to shut down, restart or interrupt your computer system to add or remove peripheral devices. The 24 Port USB Monster Hub can be used right out of the box, with no need to install software or USB drivers.
For gadget lovers, the hub should keep you and your devices easily occupied for quite some time. Even then, this wheel o' ports gives you the room you need to grow without actually using too much space.
Are you interested in the 24 Port USB Monster Hub? What kind of devices would you plug in to make the most of the ports? Explain your own USB topology plan.