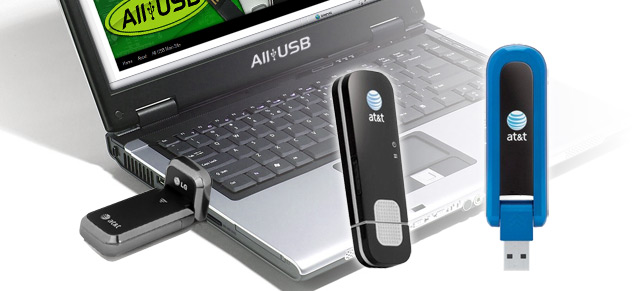 Communications giant AT&T is planning for the future, today, with the debut of some of their latest USB devices. The AT&T USBConnect Shockwave and USBConnect Adrenaline are firsts for the carrier in that they have the capacity to upgrade to LTE and HSPA+ networks.
For those of you unfamiliar with these terms, HSPA+ (High Speed Packet Access Plus) is a type of wireless broadband with theoretical data rates of 56 megabits per second and 22 megabits per second for downlinking and uplinking respectively. LTE (Long Term Evolution) is a radio technology that enables higher bandwidth and throughputs than HSPA+. Simply translated, these technologies will help to better utilize mobile data applications that are becoming greater in numbers and increasingly complex in their demands.
According to one VP at AT&T, ""We have purposefully planned our path to LTE to create a wireless network where the transition from 3G does not give customers wireless whiplash."
These devices, which in physical appearance resemble a heavyweight version of a flash drive, can plug into laptops and netbooks.
The Adrenaline and Shockwave offer some distinct user features. The LTE-upgradeable USBConnect Adrenaline will have mobile plug-and-play capabilities that can support multiple operating systems. It will connect to Wi-Fi and AT&T hotspots while also including a memory card slot and built-in GPS. As for the USBConnect Shockwave, it's made ready for HPSA+ upgrades and the fastest speeds available. It can install or run in less than a minute. (The speed of the Shockwave will make it faster than the LTE-capable Adrenaline, which is odd since LTE is built for greater bandwidth).
Although these USB devices are built for tomorrow's networks, AT&T is providing a reason to buy them now: Shockwave is free after a two-year service agreement and Adrenaline is just around $50 after a two-year plan. Adrenaline will be available on October 17th; Shockwave has yet to have a specific release date, but it will debut before the holiday season.
We will have to wait and see how or if these devices will edge out mobile broadband competition from Sprint or T-Mobile.
While broadband technologies are changing it's interesting to see how USB is serving as a bridge to that next innovative step beyond 3G.
What do you think about USB technology's role in future networking?