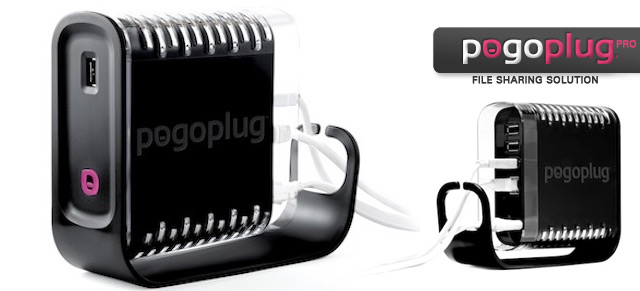 Digital files are no different than the piles of household items we accumulate over the years—eventually, you need the right kind of storage to hold it more efficiently.
That's where cloud computing hopes to rescue you from drowning in all of your virtual files. Cloud storage holds your audio, video and other digital data in a remote database—be it your home, your office or elsewhere—and the Internet serves as the link to access that information. Additionally, USB technology serves as a key function for cloud computing's network-attached storage devices.
Cloud Engines just launched an upgraded version of their storage device. Pogoplug Pro is engineered with four USB ports for the connection of multiple hard drives to store your personal content. What was once restricted to one location at a time on your USB drives can be shared anywhere with friends or clients.
One marketing exec says, "Pogoplug is a great option for those who want to quickly and securely share personal files over the Internet."
Pogoplug Pro offers free lifetime online access service with your purchase. This flexible service means that no matter where you are or which platform you are using, get to your important files from any browser (Explorer, Chrome, Firefox, Mozilla, Safari, etc.) on any computer or smartphone (iPhone, Android, Blackberry, etc.).
Other noteworthy features of this USB device include: automatic file backup, media streaming, mobile printing, slide show creation and address book sharing.
While this NAS solution is capable of handling four USB drives, you first need to make sure the speed of your Internet service provider is compatible.
One feature its predecessor Pogoplug lacked was WiFi, which is built in to this newer version, therefore getting rid of any cable requirements. The device's physical makeover may be considered an upgrade in many user's eyes. Gone is the polarizing hot pink case; now there is a sleek model in universally appealing black.
Setup merely requires plugging the device into a power outlet, locating the wireless hookup and connecting your USB hard drives, or even flash drives for that matter. Pogoplug Pro retails for $99.
Thoughts on Pogoplug Pro and its USB storage capabilities? Talk to us.