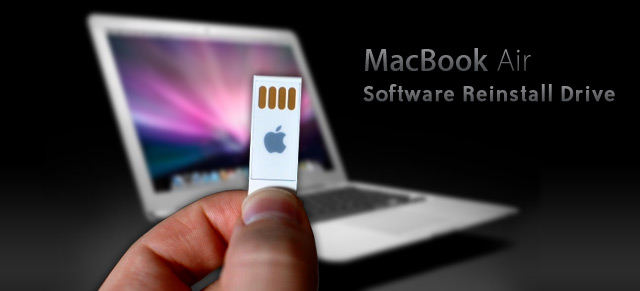 There's a mainstream computer feature missing from the new MacBook Air–and USB technology is taking its place. Nowhere on the silver notebook that's a mere .68 inches thick will you discover an optical drive for your CDs and DVDs. However, as you rotate it from side to side you will find two USB 2.0 ports, which is all Apple is giving you for software reinstallations. In this instance, the laptop proves that's all you'll really need for those applications. Mac OS X is taking shape on an 8 GB USB key, which is included in your Air purchase and acts as the notebook's software reinstall drive.
As you may recall, a CD/DVD drive was also absent from the first Air, but it still didn't free you from using discs. To install software on that MacBook, you had to use a wireless disc sharing feature that let you take advantage of a disc drive from a computer within a specific proximity. While this remote sharing possibility can still be used on the newly released MacBook Air, the USB software key gives way to instant convenience.
By creating a MacBook without an optical drive, the design not only maintains its reputation as a compact, easy to carry device, but it is also likely to preserve the battery longer than its disc-encumbered counterparts.
In addition to ditching its "mechanical rotating storage" Apple CEO Steve Jobs says, "We've taken what we have learned with the iPad—solid state storage, instant-on, amazing battery standby time, miniaturization and lightweight construction, to create the new MacBook Air."
It remains to be seen if the appeal of the notebook's bundled USB drive as a miniature, featherweight software medium will also be a disadvantage. An object so small could be all too easy for a consumer to lose track of (and what happens if you do lose it?). However, the drive is designed with a hole at its tip that's just begging for a key ring, which might be a better place than the dark recesses of your many pockets.
When the USB recovery drive is inserted into the MacBook Air's one of two ports, the thumb drive does everything as a disc would by reinstalling OS X or performing diagnostics.
According to notebooks.com, some manufacturers of PCs stopped providing recovery media, leaving it up to users to burn a recovery software CD or DVD or create a hard drive partition. It's a hassle that appears to frustrate consumers but help the manufacturer's bottom line.
Therefore, MacBook Air's USB key could be a simple, headache-sparing solution for salvaging your system from funky issues or glitches. While optical drives may play a significant part in other storage and digital needs, the lightweight MacBook Air could show that small doesn't mean skimping on software function.
The new MacBook Air starts at $999.
Do you see USB software drives in the futures of more notebooks and netbooks to come? Share your opinion on the role of the USB key in Apple's world.