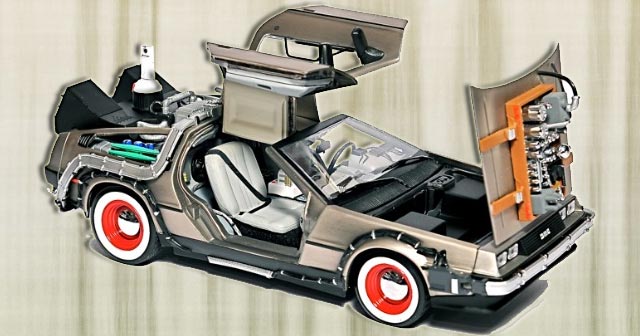 It's the kind of innovative gadget that would make Doc Brown proud.  We introduce to you Flash Rods 500GB Seagate Delorean Time Machine USB hard drive.  The device is a scaled stainless steel 1:18 replica of the famous vehicle at the center of the eighties classic trilogy of Back to the Future.
While novelty USB flash drives are seen everywhere, a custom HDD like the Flash Rods Delorean is a rarer find.  External USB hard drives are for the most part characterized by their boxy, smooth shapes and generic physical features.
When you examine the Delorean drive, you see all car and no hard drive features, save for the USB connector at the rear of the replica car.  The detail on the drive is unmatched.  No feature is left out—from the seatbelts and winged doors to the popup hood and Mr. Fusion reactor.  According to Flash Rods, this is their goal, so as not to compromise the interior look of the car.
It has a USB 2.0 connection that comes equipped with a six foot cable.  Whether it's fast enough for Marty McFly and Doc Brown's 88 mile per hour requisite—we'll never know.  If it had the fast data transfer rates of USB 3.0, it would be transformed to a whole new level of awesome.  However, it would put the price point of the drive even higher than it is now.
The Delorean HDD is ridiculously priced at $250.  A comparable albeit standard 500GB hard drive would normally cost between $25 and $35, making it approximately seven times the price.  While it's rather expensive, its coolness factor will make this device go from a "lust" to a "must".  Its price can certainly be justified for some of Marty McFly's biggest fans.
Great Scott!  I think many holiday wish lists just got longer!
What do you think of the Flash Rods Delorean USB drive?  Are you drooling over it, or do you have a different USB gadgets in mind for the holidays?  What other pop culture symbols would you like to see come to life in an external USB drive?  Let's talk about it!