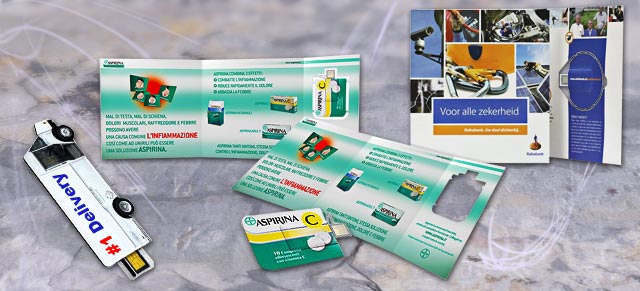 A new innovation in USB products is giving some weight to the use of paper.  While paper and technology are in most respects from two different worlds, custom paper USB web keys may combine the best of both.  USB Insert and Paper Webkey are helping to lead the way with this unique promotional tool.
Paper with a USB connection may sound like an unlikely combination, but you are actually not inserting paper into any ports.  Instead these custom web keys have a metal connector but the body of the key is designed into a personalized paper shape that is perforated and detachable from a larger piece of promotional material like magazines, mailers or brochures.  To use, a customer will simply see a portion of the web key connector and detach it with help from the cardboard's die-cut.
Paper provides a unique edge.  Like the web keys, the material is thin, compact and versatile.  You hear of sturdy wood, metal, plastic or rubber custom shaped drives, but never paper.  In some cases however, paper might be a better option.  A paper web key or USB insert is flexible in its customization of designs and shapes.  Paper provides a great blank canvas for designs or logos that demand lots of color and detail.  Since the web key is limited in terms of content and may have less longevity than a USB flash drive, you eliminate the additional costs incurred from creating a custom mold from other materials.
Beyond the art, these custom paper USB keys give you some real science and numbers—tracking codes, Google Analytics, etc.  They use USB 2.0 connectivity and are compatible with both PCs and Macs.
The content of the paper USB insert or web key guides the user or customer to a specific online destination such as a website or e-catalog.  This takes the guesswork out of finding the right information for customers, providing an error-free way to drive them to where you want.
This unique type of device is not like the USB flash drive you're typically familiar with.  Paper web keys lack any type of true storage capabilities, but act as a direct and digital path for promotion.  They are both seamless and standout with the rest of your promotional materials, which along with cost, makes these worth looking into.
Would you invest in paper USB inserts or web keys for your promotional needs?  Tell us what you think about paper in the USB picture.