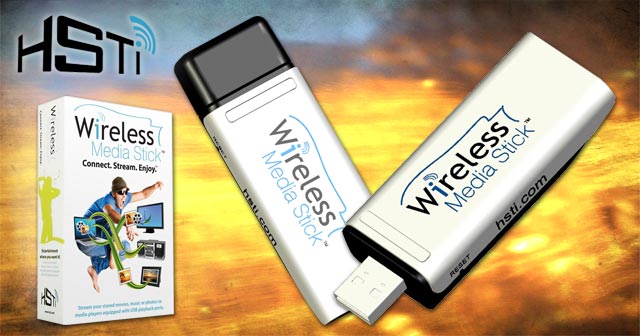 Every once in awhile, you may hear about a unique invention that helps you enjoy the latest technology developments with your existing electronic devices. HSTi's Wireless Media Stick 2.0 is one such innovation that gives you the wireless connection your home entertainment may be missing. By all appearances, it looks exactly like a USB flash drive, but in reality, it behaves much differently. While it uses USB 2.0 technology to plug into a port, what happens inside the device goes beyond storage.
Instead, the recently released Wireless Media Stick uses memory from your network to stream video, music, pictures and other multimedia files on your computer to playback devices such as your TV, media players, game console or even digital photo frame. That being said, this type of flash drive uses 1 terabyte of virtual memory.
Acting as a communication link, the Media Stick 2.0 is the go-between for the computer holding the files you want to playback and the media player that will accomplish this. The files on your computer are not tampered with in any way. The USB port enables the media stick to simply read and share the files.
Setup for the device is fairly straightforward with no software required. While you need to configure the Wireless Media Stick on a PC or Mac, you can access the files you want to share from these operating systems as well as Linux or a NAS device. Once you hook up HSTi's media stick to your wireless network, you open your control panel or system preferences to allow for sharing. Create shared folders with files that you want to see in playback. HSTi's setup guide navigates you through the process which can take place in as little as three minutes.
You can use the Wireless Media Stick on nearly any media player that offers a USB 1.1 or 2.0 port. Even more, you can connect it to your Android's WiFi to share media. The stick is flexible in its use; take it to your friends' or family's homes and you can easily connect it to their wireless networks.
HSTi is a Canadian company that implements its patented wireless streaming technology. The Wireless Media Stick 2.0 is an updated version of its original stick that aims to improve users' options for their multimedia experiences.
What's your take on the Wireless Media Stick 2.0? Do you think it's an effective way to use USB technology and your digital data?