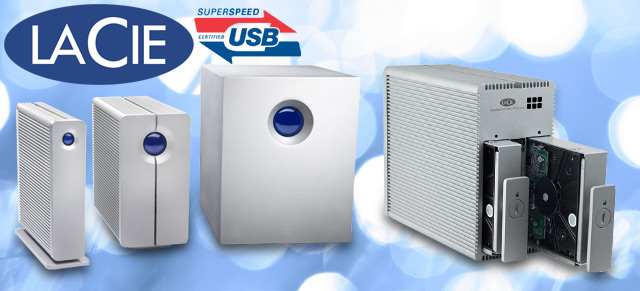 LaCie is vying to claim the title for the fastest hard drives around, and its latest addition to a 3.0 lineup certainly cannot hurt its chances. The global storage device leader introduces new 3 TB hard drives: the LaCie d2 USB 3.0 and the LaCie 2big USB 3.0.
To put into perspective for the average computer user how much a terabyte holds, it's equivalent to one thousand gigabytes or one trillion bytes. In layman's terms, three terabytes could hold around 900 hours of video or 3,000 copies of a complete encyclopedia. As HD content becomes a standard, terabytes for storage size will be invaluable.
The heavy capacity of terabytes needs an interface to match, and that's where USB 3.0 enters the picture. LaCie's drives reach data transfer speeds above 300 MB per second. A LaCie executive says that "there is no question heavy data users continue to demand higher capacities, and in turn faster transfer speeds."
Anything less than SuperSpeed simply would not make sense for such a high storage capacity. At a USB 2.0 speed of 480 Mbit/s, you'd be waiting for an endless amount of time to get a fraction of 3 TB transferred. While 3 TB may seem like a lot, think how much of your daily applications you've transferred digitally and how much you plan to store that way in the future. A lifetime of your favorite pictures, home videos, important documents and multimedia projects put 3 TB into a more sizeable, easy-to-swallow perspective. It has the ability to give your digital files room to grow.
In addition to the 3.0 interface of the drives, they allow you to use an expansion card to hook up your laptops and desktops to SuperSpeed potential as well as 2.0 backward compatibility. These drives promise a 20 percent more speed than LaCie's previous comparable hard drives. The d2 and 2big both deliver 7200 rpm. The d2 has an energy-friendly mode that powers the device down after a half hour of inactivity. The 2big drive has RAID and JBOD capabilities.
These drives are intended for a November release, so keep your eyes peeled for prices, which have yet to be divulged. Based on LaCie's current 2 TB d2 drives at $250 and 2 TB 2big drives at $350, the upgraded storage will likely be a somewhat pricey investment. Moreover, if you think 3 TB is a digital monster; LaCie is attempting to win over users with a 6 TB 2big USB 3.0 drive as well. It will be released along with the 3 TB devices.
Do you think a multi-terabyte USB 3.0 drive is worth your dollars? Sound off below on what you think of LaCie's latest debut.