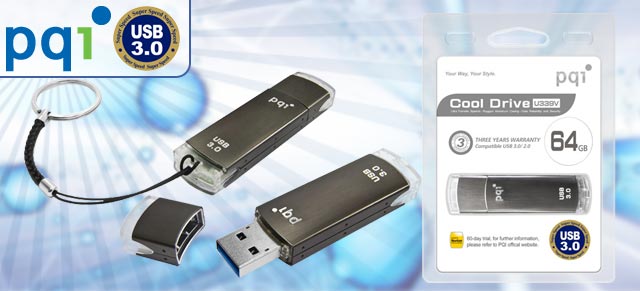 While PQI is trying to keep up with the USB 3.0 trend before it goes fully mainstream, the Taiwanese company's latest effort with the PQI Cool Drive U339V could be missing the mark.  The specs of the U339 appear to be a mixed bag.  It's as if the drive is having an identity crisis between its interface and actual speed capabilities.
The flash drive was first displayed at the industry exhibition Computex back in June.  The release of the Cool Drive comes on the heels of their U368 model, which was released earlier this year.

There are a few positive features to note regarding the U339V.  PQI says the drive is the lightest of its kind weighing in at 13 grams.  The slim design can be credited to its single-chip manufacturing process.  Single-chips use a smaller micron process to allow for a design that can add components on to its simplified wafer.  They also generally have more energy efficiency and less latency.  Single chips consequently enable lower production costs on the part of PQI since they have to manufacture fewer parts, which in most cases translate into savings for you the consumer.
The PQI USB 3.0 Cool Drive has a smooth, satin-like, brushed metal appearance that is both subdued and stylish.  It lacks the TurboFlash software of its predecessor, U368, as it was troubling to use for some consumers, but the new drive uses Norton software to assist with virus protection—an increasing concern with the rise in popularity of flash drives.  The drive offers Windows and Mac support as well as backward compatibility with USB 2.0 and 1.1.  It comes in 8 GB, 16 GB, 32 GB and 64 GB flavors to meet various storage demands.
The Cool Drive U339V's USB 3.0 connectivity is where things get a bit tricky.  PQI claims that flash drive is ten times faster than its USB 2.0 counterparts.  However in taking a look at the read and write speeds of each storage size, high performance USB 2.0 drives compete with or exceed the data transfer rates of the Cool Drive—especially in terms of the write speed.
The read speed of its smallest drive (8 GB) is 54 MB/s while the write speed is 10 MB/s.  The write speed of some USB 2.0 drives can reach up to approximately 28 MB/s.  A simple Internet search will give you a multitude of drives that easily surpass write speeds of 10 MB/s.  Moreover, the Cool Drive's greatest write speed in its higher capacities only beats USB 2.0's best by a few megabytes per second.
So while they are marketing to appeal to ahead-of-the-curve users with USB 3.0, the performance just doesn't seem to be there.  What gives?  You would think a consumer would just continue using a USB 2.0 drive until PQI can catch up to more efficient speeds.  The Cool Drive's read speeds are efficient, but the write function truly falls short.  Perhaps PQI's next drive will boast all that USB 3.0 has to offer, including competitive data transfer rates to keep up with our increasing amount of storage content.
What do you make of the PQI Cool Drive's features?  Share your thoughts.