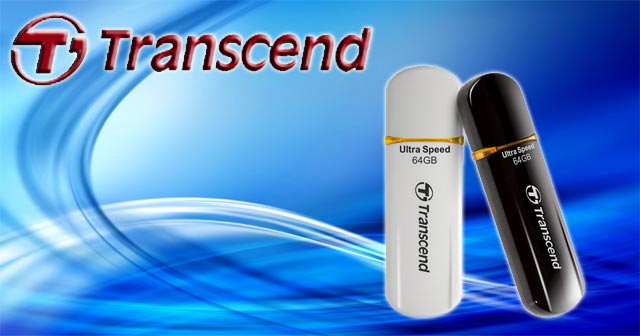 Although USB 3.0 adoption is slow to reach the masses, the demand for digital storage certainly outpaces SuperSpeed.  As a response to demand, Taiwanese memory maker, Transcend Information is adding two 64GB flash drive models to its Ultra Speed series: the JetFlash 600 in black and JetFlash 620 in white.
Just how big is 64GB?  It equates to more than 16,000 songs or photos or more than 10 hours of HD video.  Additionally, 64GB roughly translates to more than one million 50 kb Word files.  The JetFlash USB drives make the most out of a USB 2.0 interface with dual channel technology that allows for 32 MB per second for read speed and 18 MB per second for write speed.  These speeds make your 64 GB more manageable in terms of transfer times, which are often weighed down by large chunks of data.
The JetFlash 620 is coupled with Transcend's SecureDrive software that protects valuable, sensitive information from prying eyes.  SecureDrive lets you make a section of your flash drive storage accessible only by you through the creation of a Private Zone with the amount of megabytes or gigabytes of your choice.
As an extra perk, users can install free USB data management software called JetFlash Elite from the company's website for a comprehensive on-the-go experience.  It provides easy to use USB apps for a variety of functions.  The software lets you store your email or access it from anywhere by using a computer that is compatible with your email platform.  By using the email from your flash drive, you don't leave a digital footprint behind on any computer.
This concept carries over to Elite's USB web browser application that saves the bookmarks you use at home and lets you surf online without having to worry about your web history being traced by the computer you are using.  JetFlash Elite also includes data backup, automatic logins for your favorite sites, 256-bit AES encryption for file compression and a virtual computer lock.
Prices for the USB flash drives have yet to be revealed, although to give you an idea, the 32 GB JetFlash retails at newegg for approximately $56.
Are you a fan of Transcend flash drives or not?  Are you looking forward to getting your hands on the 64GB flash drive or would you rather pass for something different?  We want to hear from you.