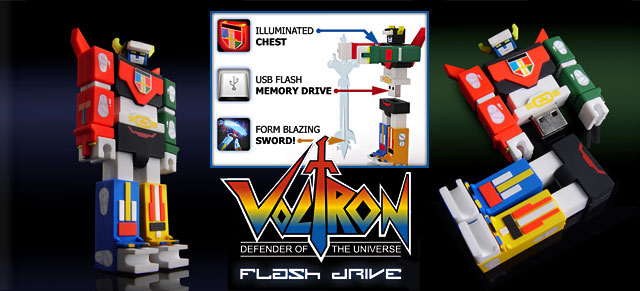 It's the kind of USB flash drive for either the super fan or for the peripherals geek who has everything.
"From days of long ago, from uncharted regions of the universe, comes a legend…"
Does that statement jar your memory?  It should.  The beloved Defender of the Universe has been reincarnated with Incubot's Voltron Lionforce Defender USB flash drive.  The 2 GB drive takes a worldwide comic classic from the mid 1980s that went from anime unknown to Saturday morning staple, and gives it a functional, 21st century twist.

Designed from colorful PVC blocks, the 3.5 inch Voltron flash drive lights up at the chest shield when plugged into a USB 2.0 port.  It also comes with a blazing sword as an accessory.  You may be disappointed to discover that the drive only splits in half, rather than following the cartoon's concept of combining five robot lions (or in this case, five pieces of flash drive casing).
One perk is that this Incubot product acts as a preloaded USB drive, complete with a full cartoon episode of Voltron.  This means that not only can you store a large quantity of pictures, music and other files on it, but you can also have the full Defender of the Universe experience.
The Voltron flash drive comes after Incubot's success with their Nekobot robot drives.  Voltron is the first licensed cartoon classic to be used by the company.
It's always fun and refreshing to see a computer device come along that goes beyond the look of cookie-cutter electronics.  In the case of a cartoon favorite like Voltron, this flash drive not only brings you a good dose of nostalgia, but it will also be the envy of your friends, coworkers or classmates.
You can purchase the drive from Incubot online via PayPal for $36.99 plus $6 for shipping and handling.
By the way, if the USB drive and Voltron episode leave you wanting more, there's a brand new Voltron series on cable.  Rumor has it that there is even a live-action movie version in the works.
Do looks matter when it comes to USB flash drives?  Would you rather use a unique or themed drive as opposed to one with a standard case?  Or do you just want to talk about Voltron?  Go crazy in our comment box.