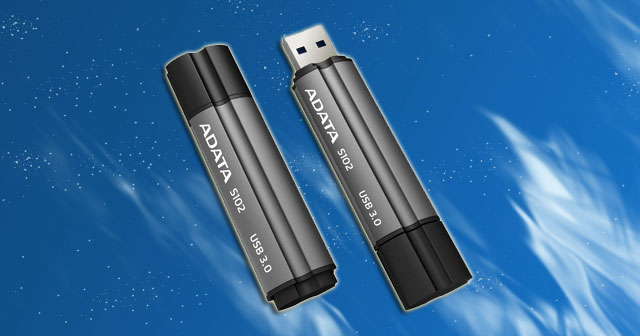 A-Data is setting out to prove that it can compete with Patriot Memory in terms of cutting edge technology.  Nearly a week ago, Patriot debuted a flash drive with a single chip USB 3.0 controller, as you may recall from one of our previous articles.  Now, Patriot's competitor introduces the A-Data S102 with a comparable native controller chip.
A single chip USB 3.0 NAND flash controller is an exciting concept.  It improves the performance of the drive itself because it doesn't need a bridge chip.  As a result, the speed is faster and a smaller chip allows for more flexible design possibilities.  It could also back on manufacturer costs to produce since the number of parts used is reduced.
Compared to the Patriot's single chip flash drive interpretation, the A-Data S102 is more appealing in the looks department.  The aluminum-cased drive has eye catching vertical ridges and is black and slate gray in color.  Like a writing pen, the thumb drive is designed to keep the cap and body from separating by attaching it to the casing's back.
As far as a speed comparison goes, A-Data does not win the USB 3.0 single chip race.  The S102 boasts 68MB/s read speeds and up to 30MB/s write speed.  While this means it will transfer at twice the rate of USB 2.0, it falls rather short of Patriot's 100MB/s read and 70MB/s write.
However, the S102 does have some useful features that the Supersonic lacks.  This A-Data flash drive is packed with software to optimize how you use the device.  The USB 3.0 single chip controller makes it possible for these programs to respond better with more user-friendly speed.  One of its USB apps gives you a portable Windows 7 operating system.  It makes you feel like you're working from the comfort of your own desktop as opposed to a flash drive.
Another installed tool, UFDtoGO, links your email, browser favorites and other data to your flash drive.  It gives you the ability to work remotely from your desktop without leaving a digital footprint behind.  To combat the upswing in flash drive security threats, the A-Data S102 gives you a free trial of Norton's latest antivirus software.
What's your take on the A-Data S102?  Is it fast enough for you?  Do you prefer features (A-Data) over speed (Patriot)?