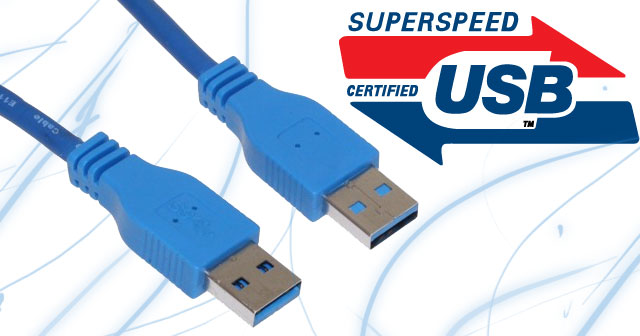 While USB 3.0 didn't quite measure up to industry predictions for 2010 with the sale of approximately 14 million USB 3.0 devices, reports reveal that the coming years are looking bright enough to propel SuperSpeed into mainstream adoption.  Analysts at In-Stat predict 1.7 billion USB 3.0 devices will ship by 2014.
According to the firm's lead analyst, "Late 2009 saw the first, limited shipments of SuperSpeed, while 2010 has seen increased shipments in mobile PCs, desktop PCs, aftermarket cards, external hard disk drives, and USB flash drives.  Overall, the rollout of SuperSpeed is progressing."
Intel, the company who birthed USB technology, has been rather commitment-phobic in confirming any hard dates or details of native USB 3.0 integration for some time now.  However, it is estimated that the company will add the SuperSpeed interface into its new Sandy Bridge processors this year.
Another hold up in the stalled USB 3.0 adoption is the absence of native Microsoft Windows USB 3.0 drivers.  This can be credited to the fact that there has been a lack of hardware and devices for the computer giant to test.  SuperSpeed drivers are possible on a PC, but they require installation by the user.
One ray of hope that contributes to the progression of the faster interface is that the USB-IF certified more than 100 3.0 products a few months ago including motherboards, notebooks, express cards, storage devices and controllers.  The SuperSpeed approval should help its popularity grow exponentially by helping to propel the needed amount of applications that demand it (think HD video, high performance SSDs, external HDDs and more).
Among In-Stat's research, the company found that USB 2.0 will still dominate the market, which should be expected considering that not all applications require mega bandwidth.  Even USB 1.1 still has a relevant place in consumer technology considering the appropriate, low bandwidth it uses for USB peripherals like mice and keyboards.
Some other exciting figures to consider; by 2014, USB 3.0 is predicted to be the force behind 225 million flash drives, 7 million set-top boxes and 40 percent of media players.  Approximately 4 billion USB devices in general will ship in 2012, up from 3 billion in 2009.
Do you agree with the industry analysts findings?  Do you think USB 3.0 is on the path to mainstream?  Or do you think it's still too early for adoption?