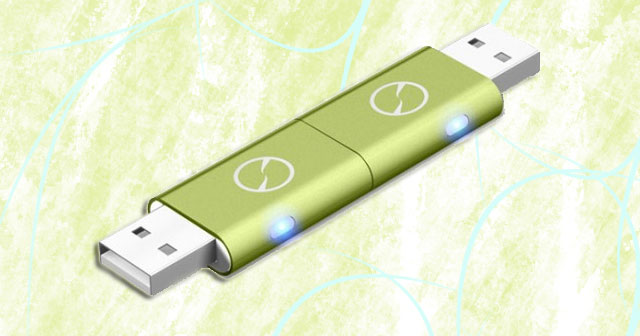 Each piece of the iTwin acts as the other's better half and they just won't work without each other.  It sounds like the beginnings of a techie love story, but you may be the one more inclined to fall in love and add it to your wish list.  The iTwin is a first generation device made by a company in Singapore that consists of two USB flash drives with no storage space on them, but limitless possibilities to share storage between two computers.  It does the job of a cable without having to be anchored like a cable.  Intrigued, right?
To clarify, these USB sticks are no ordinary flash drives.  They are devices that allow file sharing to happen by plugging each half into two computers with Internet connections, which instantly links those computers.  This means that you can remotely add or edit files between those computers. Data portability, while convenient for many, may be a security concern for others.  You won't have to worry about carrying several gigabytes of sensitive data in your back pocket with an iTwin, since your files will already be safely transferred to your home computer.
As far as storage space goes, you're only limited by the size of your own hard drive.  While the data is shared remotely, it is protected in the sharing process by top-notch, AES 256-bit hardware encryption, which also leaves room for password configuration.  Additionally, if one half is lost, the other can be disabled to prevent any kind of tampering.
There are a variety of daily applications for a USB device like the iTwin.  It could be especially helpful in travel or vacation settings where you can send files directly and quickly to your home computer to leave extra room on your memory card.  This would safeguard against the potential loss of pictures or videos that can happen all too often when traveling.
The iTwin could also make for better project communication between coworkers or clients by eliminating the need for bulky email attachments that can crowd your inbox.  Work projects would be updated more quickly and there would be fewer rough drafts to sort through.
It will set you back $99, however in some cases, it could be saving you from future incremental costs.  For example, using an iTwin may mean that you won't have to pay for monthly online storage service.  It also requires no setup or configuration; just plug in to the computers and set up transfer folders.
Featured in lime green or grey aluminum casing and equipped with a blue LED activity indicator, the iTwin is only compatible with Windows operating systems (which is somewhat ironic considering the "i" similarity in its name).  The company's website says it is actively working on USB sticks for a Mac version. *Update 9/20/11: The company has released iTwin for Mac OS X users.  It is compatible with Lion and Snow Leopard.
The device takes USB technology down a unique avenue.  While it may seem like an unnecessary solution for those who are just fine with using flash drives and email attachments, USB file sharing undoubtedly has a place and a purpose in current technology.
The iTwin was released in limited quantities in the U.S. for now, but following CES 2011 in January, it will be available for widespread purchase.
Would you invest in an iTwin? What would you use it for?