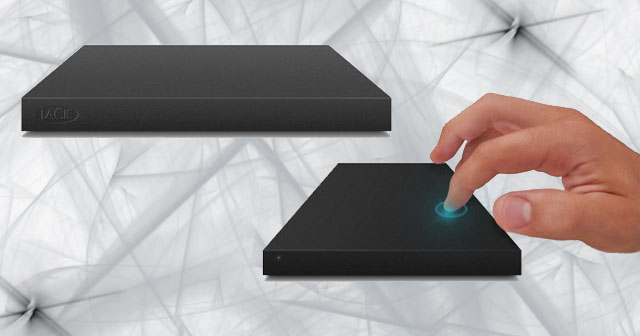 LaCie has done it over and over so it's no surprise how the new concept of LaCie Float is able to capture our imaginations. Introducing an external hard drive set with USB 3.0 that also functions as an all-around trackpad with mood-setting light features underneath, you'd wonder how this invention has not yet come into concept until recently.
From the mind of Andre Silva, the top part of LaCie Float USB 3.0 hard drive is made of carbon fiber while the base is made of glass filled with LEDs that sets up a cool ambiance depending on the lighting of your room, thus creating an image of floating. It may look like your ordinary and boring hard drive at first glance but once plugged in, the touchpad function is perfectly sensitive and can handle easy navigating, clicking, swiping or pinching on the net.
Hard drives are a little sensitive and using them as trackpads may cause bumps and shakes. If you have any issues with this but you also require less space, higher security and quicker processing, you may opt for the Float's SSD version of up to 256 gigabytes. On the other hand, LaCie Float's HDD version can store up to 1 terabyte and equipped with SuperSpeed, it assures 10 times faster transfer rates than the 2.0 technology!
If that wasn't enough to lure you into adding this USB 3.0 device onto your wish list, you may be interested to know that it's created from 100%, PVC-free recycled material. As LaCie points out, the idea is to continue recycling, leaving no space for waste.
The LaCie Float definitely adds another reason to celebrate as this device not only promotes advancement in USB technology but also makes it possible to combine USB technology and eco-friendly material into one idea.
Although the Float is merely a concept at the moment and LaCie is not very talkative about revealing when it will be producing this beauty, you should start saving up (I suggest saving up big time!). As unique as the idea may seem, we are anticipating this item to be costly, especially the SSD version (we all know how they eat up our budget). Pricing aside, the sophisticated design of the LaCie Float USB 3.0 hard drive concept is expected to create yet another turning point in USB technology.
Do you want to see the Float go from concept to store shelves?  Let us know what you think!