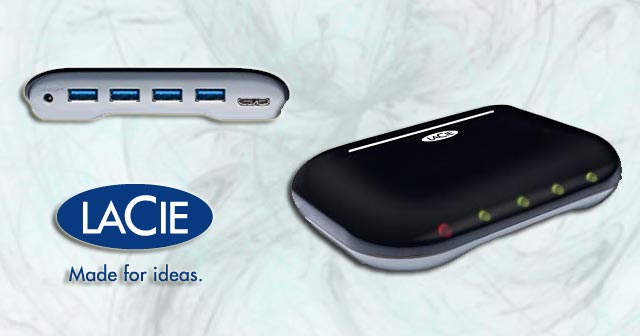 Since the dawn of the Universal Series Bus, USB hubs have been a necessity for peripheral lovers, but also an overall eyesore.  Most of them are either bulky—in which case you try to shove it behind your desk where no one will see them—or they are made into some kind of outlandish, wacky shape.  The LaCie Hub4 USB 3.0 provides you with an entirely different accessory option.
It's a sleek and stylish hub that can run with your crowd of cutting edge computer electronics and devices.  The Hub4 is a curvy black box that is comparable in size to a smartphone like a Motorola Droid or Apple iPhone.  As far as the ports go, the LaCie hub features four bright blue USB 3.0 jacks.  The hub also comes equipped with an external power supply to allow the necessary amount of power to be effectively used by all four ports simultaneously.
The hub is also backward compatible with USB 2.0 hosts and devices.  However, it's intended for you to make the most out of the SuperSpeed connection of up to 5 Gb/sec by implementing at least one USB 3.0 connector from your computer.  The four port hub is compatible with the latest versions of Windows and only the USB 2.0 interface is compatible with Mac OS X systems 10.5 or later.
With the Hub4, LaCie is keeping just ahead of the pace that's been set for USB 3.0.  This hub can be used with current devices, but it also provides room to grow for what is sure to be an increasing market for SuperSpeed peripherals that demand larger amounts of data to be transferred at faster rates.  LaCie's Rugged drive is one example of a USB 3.0 device that can be used to test the accessory's performance.
The LaCie Hub4 USB 3.0 is available now and might make a great stocking stuffer for this holiday season.  Currently it retails online for $59.99.
Could you see yourself using LaCie's Hub4?  Are you more into the design or the function, or maybe neither?  We want to hear what you have to say about it in our comment box below.