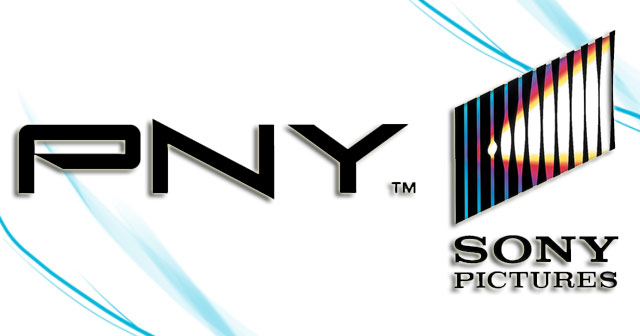 Just yesterday, we told you about how the entertainment industry and flash technology are merging for the rental experience of Flix on Stix.  Well, the flash drive kiosk company is not the only one getting creative.  PNY and Sony Pictures are partnering to provide customers with two products for the price of one:  when you buy a PNY USB flash drive, flash memory card, graphics card or HDMI cable you'll receive a free full-length movie download from Sony.
PNY makes getting your free flick relatively simple.  Customers can redeem their purchases online by following a few steps.  One you're there, register with your email and password.  Next, you'll enter a unique promo code that came with your PNY purchase.  Choose from almost three dozen titles that range from Lawrence of Arabia to Talladega Nights.  From there, click the download button for the movie you want that matches the computer operating system you have.
Download times for a 900MB to 1.7GB film will vary with the movie you choose and the speed of your Internet connection.  It could take anywhere between twelve minutes to four hours.  (And it will take more than 140 hours of downloading if you decide to do dial-up, but we'll give you the benefit of the doubt and assume that you've left that outdated connection well behind!  For any other download questions, PNY offers a comprehensive FAQ.
PNY and Sony give you flexibility with the option to view your movie how and where you want.  It can transfer right to your hard drive, USB flash drives, SD card or even your smartphone.
According to a PNY executive, "We realize that our consumers appreciate the instant gratification of this promotion."  He goes on to add, "We've opted to expand and refine the promotion onto our higher capacity products and include additional product categories to broaden the reach and benefit to consumers' lifestyle needs."
This marketing strategy could be an effective way for businesses and entertainment industry players to adapt and thrive in an evolving technology market.  The movies provide incentive to buy the flash product while Sony gets the brand exposure and opportunity to further develop movie downloading services to USB devices like flash drives.  Additionally, it helps to bring the idea of flash memory used for commercial films into mainstream thought.  It's a business match that makes sense.  We'll undoubtedly see more industry partnerships follow this cue.
You'll find the PNY, Sony promotion happening at PNY's online retailers and big box stores like Best Buy, Wal-Mart and Staples.
Thoughts?  Where will you store your digital downloads?