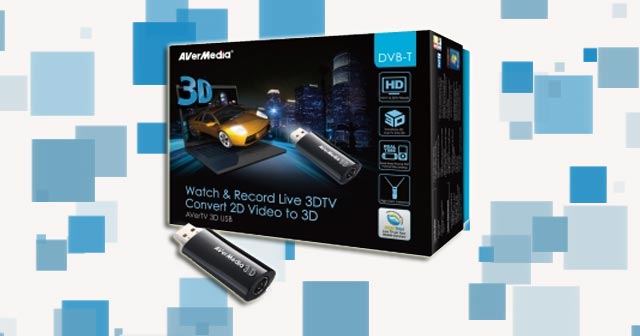 Back in August 2010, AVerMedia claimed fame for introducing the world's first ever 3D TV tuner. Less than six months after that technology breakthrough, the company has proudly launched AVerTV 3D USB tuner, the first of its kind in this digital age.
Engineered to meet the need of consumers for more comfortable 3D visual entertainment, the AVerTV 3D USB allows users to plug the device into any desktop or laptop computer through the USB port.
To complete the experience, the 3DTV and HDTV tuner takes advantage of its latest software AverMedia Center 3D, which makes watching and recording digital TV and live 3DTV possible. What's even more exciting is that this software's exclusive see3D technology can transform all 2D live TV recordings and movies into an amazing 3D viewing experience!
Other fantastic features include a scheduled recording option which allows users to record their favorite TV shows, so they won't miss out on anything while they've gone to work or out on errands. The AVerTV 3D USB tuner can also record shows in PSP, iPod, iPhone, iPad or Apple TV format in real time so you can comfortably watch your movies anywhere and anytime you like – it's the ultimate USB tuner for movie buffs always on the go!
One of the main functions of this device is similar to a remote control. However, this one offers high class tuning. The mini-sized device houses a built-in highly sensitive remote sensor and comes packed with a full size media center remote control.
The AVerTV 3D USB tuner lines up with fellow wireless media sticks such as TechCom and HSTi, who also have a few similar functions such as wireless streaming and portability but is able to take it a step further with 3D.
Before you buy, there are some limitations—especially if you don't have Windows7 or Vista as the 3D functions are only available for them. Also, in order to get the clearest, most vivid 3D effect, it is recommended to use the NVIDIA 3D Vision Kit, which supports both 3D graphics and 3D ready display.
AverTV has successfully utilized the USB technology to venture into the 3D trend while also providing its consumers a unique and highly innovative viewing experience.  For this effort, I give one and a half thumbs up for the new AVerTV 3D USB tuner! The "half-thumb down" can be credited to its lack of a wider range of compatibility.
What feature of the AVerTV 3D USB tuner do you like best? Add a comment and let us know what you think!