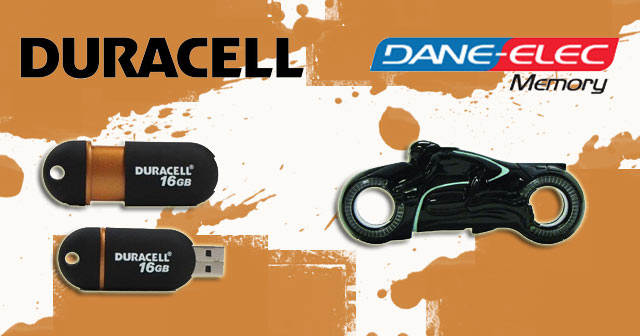 When you think of the brand Duracell, batteries are the first—and pretty much only—thing that comes to mind.  So imagine our surprise at CES 2011 to see the company sporting flash drives with partner brand Dane-Elec.  It looks like Duracell is ready and eager to expand into other technology sectors.
Backed by a five year warranty, the USB flash drives carry a signature Duracell appearance resembling their black battery with copper detailing.  The rectangular drive even has rounded edges.  The case slides open and shut without the need for a cap for the connector, which helps to prevent damage as well as loss.  The consumer-friendly storage capacities range between 2GB and 16GB.
One great thing about Duracell making flash drives is that they are so ready and available to consumers.  You don't have to go to a niche technology site to buy one; you can most likely find one at your corner drugstore.  This kind of presence in our daily lives only helps to further promote USB technology to the mainstream.
Duracell and Dane-Elec also showed off flash drive products for trademark brands.  They have licenses with Harry Potter, Batman and others.  However, the brand that took the spotlight at their CES booth was TRON: Legacy (which is only fitting considering one of its stars, Jeff Bridges, is the voiceover used in Duracell commercials, coincidentally).
The companies proudly displayed Dane-Elec's TRON bike USB flash drive, which is a replica of Sam Flynn's Light Cycle.  The drive's wheels light up to a neon blue when plugged into a port.  This USB device doesn't only look cool, though.  For fans—as well as to benefit their own marketing strategy—the flash drive's content includes features like bonus video, movie trailer, posters and screen savers.  On top of that, you get to take advantage of at least 4GB for your own storage needs.
Do you own a Dane-Elec, Duracell or TRON flash drive?  How do you grade their performances?
Below, we've included a video from our stop at the Duracell, Dane-Elec CES booth.  Find out why going into the flash drive business was a natural transition for Duracell.