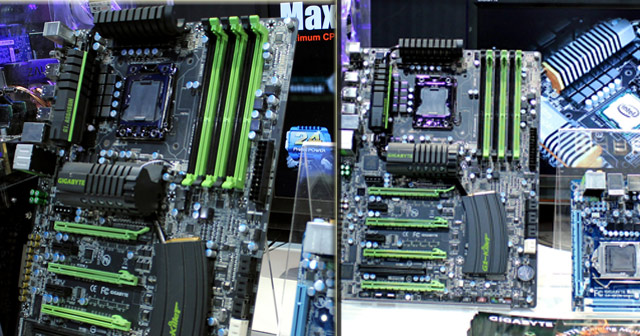 It's built to be the kind of gamer's motherboard that will leave no room to blame lagging peripherals. At CES 2011, Gigabyte Technology introduced an impressive USB 3.0 motherboard that is built to withstand the greatest gaming demands.
Gigabyte's G1 Killer series is engineered with Intel X58 chipsets and Core i7 processors. While three models will debut under this line—G1.Assassin, G1.Sniper and G1.Guerrilla—the G1 Assassin on display at CES was by far the most impressive. This USB 3.0 motherboard boasts 8 ports for the interface, four in the back and four located conveniently at the front panel. Combined with SATA 3.0, it calculates to providing triple USB power. Each model also sports 6 DDR3 memory slots. Five Smart Fan connectors work to ensure that things stay cool while you're in the thick of a game.
Two big advantages for the G1 Killers are network features provided by Creative and Bigfoot. The network speed behind Bigfoot's E2100 is not only coupled with a SuperSpeed interface, but also 1GB of DDR2 memory. Creative's Digital Audio Processor suite brings the gaming experience to life by giving you a heightened sense of sound that allows you to listen for your competitor approaching.
Occasional latency does little to affect the average computer user or web surfer. However, performance is a make or break situation for those gamers in virtual combat or competition. The motherboard affects how you pull the trigger or dodge the bullet, and Gigabyte recognizes that. The G1 Killer motherboards think smart in terms of assessing your bandwidth to give your games the leading edge in online traffic. It goes to prove that among your arsenal of virtual weapons of guns, grenades and bombs, a responsive motherboard is the battlefield tool that outweighs them all.
The hardware has yet to be released or priced for gamers.
Gaming enthusiasts weigh in! What do you think of Gigabytes G1 Killer series? Will it improve your online strategies? Tell us what you like or don't like about it.
Also, be sure to check out our interview below with Gigabyte's Anton Lin. He explains why USB 3.0 is so vital to the success of the company's latest products.