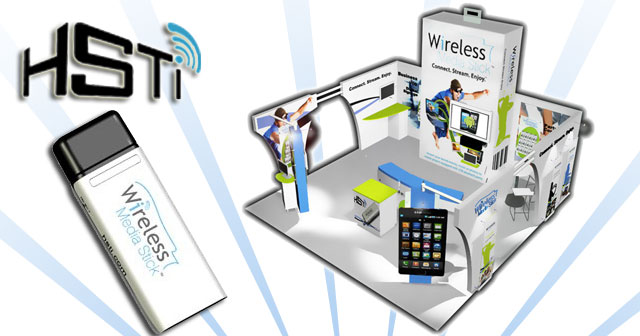 AllUSB had the chance to catch up with another technology innovator at CES that we've covered before—HSTi and their Wireless Media Stick 2.0. We're continually impressed with what HSTi is doing to propel USB technology in a forward thinking direction that evolves with consumer's demands for ease of use and connectivity.
Since we last wrote about the HSTi Wireless Media Stick 2.0, there have been a few product updates by the company you should know about:
– The company debuted the Wireless Media Stick DS, intended as a business solution for digital signage. It allows you to bypass the setup of an expensive network of cables and media players. Using WiFi, 3G or 4G, you can manage the media content for your business from a separate location if need be.
– The HSTi Stream Stick uses the same technology as the Wireless Media Stick, but for VOD streaming. This USB device is plugged into your media player and allows you to watch your favorite shows or movies from your online content library. The Stream Stick links to your router and is viewed from a media player supporting Internet capabilities.
– As smartphones become integral to our lives, HSTi is making a greater push to show how their USB stick can supplement your Android tablet or phone, where it can directly play shared files from your TV or media player.
If you're a visual learner, see the Wireless Media Stick in action at CES 2011 in the video below!