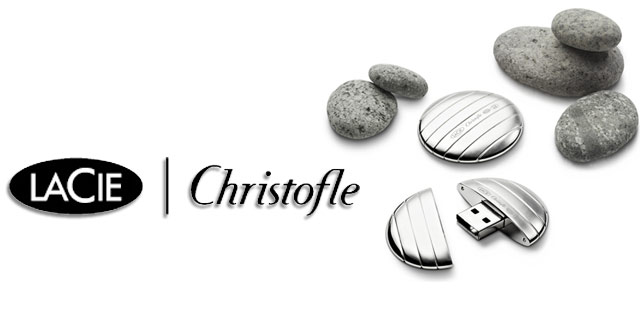 "Galet" is the French word for pebble, which is a fitting title for the art and science collaboration by LaCie and Christofle.  The flash drive they created, the LaCie Galet 4GB USB Key, resembles a round, smooth river pebble perfect for skipping were it not plated in precious silver.
Since the 1800s, Christofle has been a French silversmith luxury brand famous for sterling silver home goods and flatware.  It's no surprise that storage maker LaCie would team up with the company, as they've made a name for themselves through designer partnerships (Philippe Starck, Porsche and Neil Poulton are just a few examples).
The creation of a luxury flash drive shows that something like silver isn't meant for only bringing out of stuffy china cabinets for special occasions.  By creating a silver plated flash drive, it highlights the importance of digital storage as a necessary daily product by giving it the same timeless twist as your silverware, jewelry or picture frames.  The USB key's exterior attempts to match the value of your photos, special songs or vital documents that are stored as digital content.
As a LaCie executive puts it, "The spirit and philosophies of Christofle and its luxury brand, combined with the technical expertise of LaCie, have come together to transform a universal technology into an object that is as beautiful and simple a treasured piece of jewelry."
The Galet flash drive seamlessly blends into your daily life as an extension of your personal style.  In addition to being worn as a necklace, it can also be made into a functional keychain or as a decorative desk item.
While it operates at USB 2.0's standard 480Mb/s, LaCie promises that it also has compatibility with USB 3.0.  However, considering the physical features and overall product concept, speed in this case would be secondary to the interested consumer.
Supported by both Windows and Mac operating systems, the Galet USB key also gives you 4GB of Wuala storage for online data backup as well as the software to encrypt your content.
Accessorized by a box, velvet pouch and optional keychain strap, the LaCie Galet USB flash drive will retail for $130 in the near future at LaCie's online site or at Christofle's retail stores.  It would make a perfectly nerdy yet beautiful Valentine's Day gift, or it could be ideal for that techie you know who still enjoys the finer things in life.
Do you think the 4GB Galet USB Key is drool-worthy?  Would you pay $130 all in the name of style?  Talk to us!