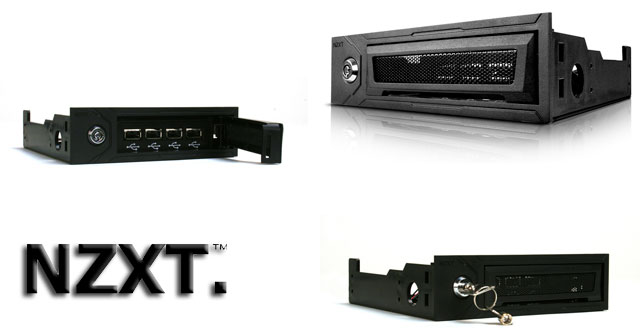 The NZXT Bunker 4 USB Lock system is the kind of device that is so unique, it may only suit a select variety of customers, but it will likely thrill those customers to no end with its function.  Students, gamers and hardcore desktop fans, pay attention!
The NZXT Bunker is a computer accessory that houses a USB hub with the help of a latchable, lockable front panel.  Built for USB expansion, it boasts four USB ports to plug in flash drives, keyboards, mice, media player or other peripherals.  The locked door panel leaves just enough room to thread the USB cables through the front of the bunker.  It measures at 5.25 inches so that it can easily be accommodated by a drive bay.
So, what's the point of such a device?  Think of it as anti-theft protection measure.  Whether it's a public computer at school or the library, if you're in an easily accessible dorm room or at an LAN party, this USB bunker gives consumers who are highly protective of their devices from anything as simple as scratches or dust, peace of mind with a physical layer of security.  By keeping the ports behind a locked door, you essentially anchor everything into place.  Additionally, with a 20 key lock system, NZXT hopes to prevent a chance of even another Bunker owner getting a hold of your digital goods.
The NZXT USB Bunker is a truly novel twist on computer accessories.  It goes to prove the invaluable nature of USB technology and the devices that keep us wanting more—showing that people have a desire to safeguard them while on the go.  An added bonus is the USB case's convenience factor; you don't have to remove your peripherals every time you need to use them.  You can simply lock them behind the Bunker's door.  Once you return to your computer, all of your devices are already in place.
One important thing to note: what stops a thief from simply cutting the USB cable, making a break with your devices in tow and replacing the severed cable with a new one?  (In that case, watch out for LAN nerds carrying a pair of scissors or sharp pliers!)
The NZXT Bunker Lock system is the right kind of device for the gamer or serious user who has everything and is looking for a way to protect it.  After all, with only a $25 price tag, it's like spending pennies compared to other accessories.  The bunker however may just be overkill for the casual PC consumer.
It's widely available beginning in March.
Would you use the NZXT Bunker 4 USB Lock system?  Is it enough to keep your peripherals safe?