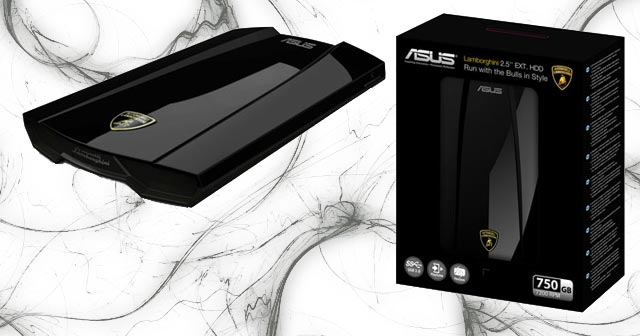 Revving it up with the new Asus Lamborghini USB 3.0 external hard drive is just around the bend!  Although the Lamborghini USB 2.0 hard drive has been around for a while, the latest USB 3.0 offers higher speeds of up to 7200 RPM.  Admittedly, there are other external hard drives available with comparable speeds, but using the Lamborghini is about more than that—it is also about style.
The Lamborghini 2.0 models came in at about $120 for the 500 GB, and $140 for the 700 GB.  Naturally, the older drive turned slower, clocking only 5400 RPM.  The new USB 3.0 works up to 10 times faster, and offers up to 750 GB of storage in a 2.5 inch drive.  It is compatible with a USB 2.0, but that setup will be a bit more sluggish.  The 3.0 external hard drive offers plug and play instant access and uses FlexSave for safe and easy storage.  One disadvantage however, is that this drive does not come with a built-in fan to keep the mechanics from overheating.
Date of availability or pricing for the newest addition to the Lamborghini line have yet to be released, but it is safe to say that the price tag will be a bit higher than the average USB 3.0 external hard drive – after all, we are talking about the prestige of a Lamborghini.
Anyone who has ever seen one of these cars has to admit that it is one heck of a head turner.  Consider that when checking out the 3.0 hard drive that uses its logo.  Asus offers it in either a glossy white or black finish, and it mimics the aerodynamic lines of the high performance sports car.
Comparing this external HDD with others simply on its capabilities would be leaving out an integral element.  It would be like equating a Toyota to a Lexus.  They will both get you where you're going.  They may even function the same, because Lexus is indeed made by Toyota.  But a Lexus brings its own unique style, and that special feeling is undeniable.  It also imposes a unique impression on others.  That is what Asus is shooting for with its Lamborghini hard drive.  Not just top notch functionality, but utility that provides a little extra oomph.
Would you buy a Lamborghini USB 3.0 hard drive?  Are you drawn more to its style or its function?