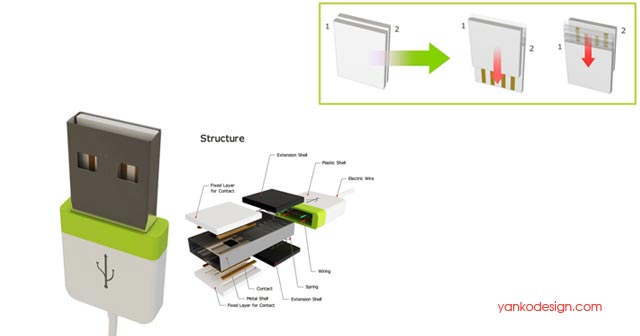 Some of us have had that bad experience – rushing to the computer to transfer a file from our USB drive that the boss urgently needs. We waste seconds trying to figure out which side of the USB should be on top so it fits the port perfectly. Things get worse when we force it in on the wrong side and find the head of the USB (the one covering the metal) cracked! We end up wishing that someday, a more practical solution will be invented.
And then there was Yanko and designer Ma Xi Xuan who recently captured our attention by pulling off an innovative and stylish masterpiece. Meet the Double USB connector, which has twin spring-loaded plastic layers on its interior, so the USB plug functions right side up or upside down.
Here's how it works. When the double U USB cord is plugged into the port on the computer, one of the two layers inside is pushed out. Yes, as simple as that and as simple as it should be.
The USB has become a necessity these days, becoming the standard of data transmission. Yanko sees the need of consumers to use USB devices with more comfort and ease. The double USB has a symbol on each side, to indicate to users that it can be plugged in both sides to transmit data.
Although this isn't the first of its kind, the Double U USB is more developed and robust than similar products. And what's more, the plugs would be made in bright colors so that they won't look dull and too techy.
The double USB cable is perfect for anyone who's always caught in a hurry (guilty!). Frequent USB users will also be benefit from this device as it saves the time and effort of looking for the compatible side of a normal USB before inserting it in the port.
The double U USB is still in the concept stage, but don't expect its release to be too far off-an idea this handy, practical and ridiculously simple is bound for store shelves.
Love it or leave it? Would you rather use a double USB cable?