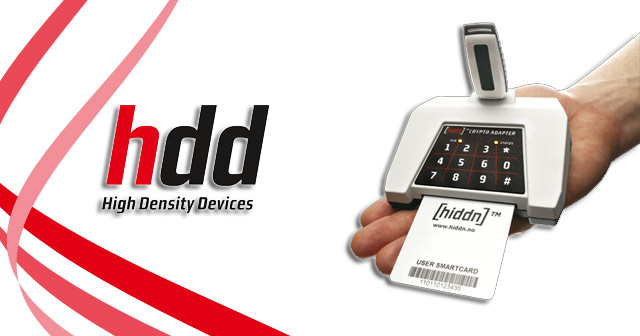 Remember the good old days when we had to buy expensive flash drives with built-in encryption capabilities to keep our sensitive information completely under wraps?  Well, those days are gone with the advent of the Hiddn Crypto Adapter.  This bad boy is a new way to keep secrets – well, secret!  Also, it can now be done at a fraction of the cost of other high end encryption media.
The Hiddn Crypto Adapter by hdd (Hard Density Devices) is a unique product that utilizes USB technology to make what was once a serious and costly issue into a far less worrisome concern.  Simply plug the nifty-looking, numbered keypad device into the computer for top notch USB encryption.
The flash drive encryption begins once it is inserted into the Adapter.  Or, for larger volumes of information, larger hard drives can be used.  A smartcard and a pin-code are required to either decrypt or encrypt all information.  The Adapter is flexible enough to use with any computer system.  Add to that its plug and play capabilities and get a convenience and cost effective bombshell!
This is a huge breakthrough for those who have ever dealt with the loss of valuable information contained on a flash drive.  USB security is at its best with this system.  As a matter of fact, hardware encryption is not available for commercial use at a higher security level.  It utilizes an AES 256-bit encryption algorithm.  The Hiddn Crypto Adapter has surpassed all international security standards and is certified FIPS 140-2 Level 3.
Another fantastic improvement from the once-necessary, much-dreaded, big-ticket "special" encryption devices is that only one adapter is needed to replace all of that other stuff!   Plus, it does not require a person to have admin rights to access the information – just the smartcard and the pin-code.
The Hiddn Crypto Adapter is a new wave in the USB encryption ocean.  It is built for secure transportation of data between work and home, at different office locations and while on business trips.  Losing data is never desirable, but life does happen.  So, losing important data with an inexpensive thumb drive using top of the line encryption poses far less risk than losing a high end, self-contained thumb drive that could possibly be deciphered.
Thoughts on the Hiddn Crypto Adapter?  Do you think it's a viable solution to flash drive security concerns?