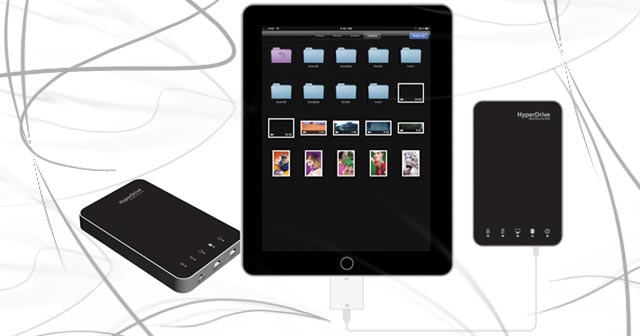 The Apple iPad is a form of technology which many people find they are unable to live without.  In response to the need of more mass storage, the USB port was put to good use by allowing for a portable hard drive.  Now, the HyperDrive for iPad has been taken to a new level with up to 1TB of storage capability.
The iPad is Wi-Fi compatible, which makes it handy in sending email, downloading music and video, gaming…you name it.  There are few drawbacks, such as the lack of a built-in camera.  However, all of the iPad's uses make small disadvantages simple hindrances.  Storage was the biggest inconvenience users met.
People were limited to two options for getting around their mass storage limits before the iPad hard drive.  They could choose to install apps which accessed other storage sources, or they could use the jailbreak method.  At best these approaches were inconvenient; at the worst they were quite shady.  Now, all one needs is their handy dandy USB compatible HyperDrive and camera connector to have more than enough storage.
The older version of this iPad hard drive came with a built in LCD screen and memory card readers.  It also put about a $499 dent in the user's banking account.  The new version does not have a screen, but it is about a hundred dollars cheaper for the 1TB model.  The iPad device itself does not have any kind of SD card slot, so without HyperDrive, the only way to make more room is to delete pictures and applications.
The bonus of the 1TB USB hard drive being cheaper combined with its huge amount of storage make it an excellent buy.  Roughly, one terabyte is equal to 1,024 gigabytes–that's about 1,000 hours of video or 17,000 songs.
The HyperDrive USB iPad Hard Drive works by using the camera USB port.  Basically, the connector is inserted into the iPad, and the files are navigated from the iPad screen seamlessly.  (One little note – The camera connector must be purchased separately from the iPad hard drive itself.)  The hard drive comes with a battery, which is good for about 40 GBs of use.
The Apple iPad is certainly a favorite bit of technology for many folks because of its versatility and convenience.  This latest upgrade, the 1TB HyperDrive iPad Hard Drive, just sweetens the pot by allowing iPad users to enjoy a portable USB HyperDrive for even more storage space at a lower cost.