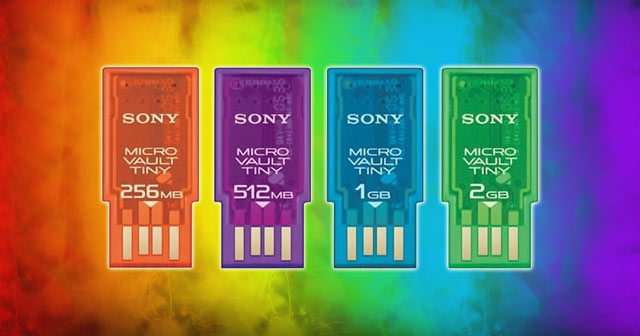 Cute, small and functional.
These are the best words to describe the new Micro Vault Tiny USB flash drive, the newest addition to Sony's Micro Vault family which sports a stylish miniature physique and comes in different bright colors like white as well as limited edition pink and lime green.
Because they often get lost, mini USB drives are not advisable to users who are constantly on the go. Nonetheless, the translucent flash drive (each color matches with a specific capacity) offers maximum portability, weighing only around 4 grams with a 4.6 mm thickness. It has a capless design that makes it easier for you to insert this plug and play device without having to worry about losing the lid. Apart from that, it has a strap hole at the other end for you to attach it to any key ring, ID strap, phone, or other mobile device. Utilizing this strap is the best method to prevent the loss of this colorful creation.
Being a world leader in manufacturing consumer electronic devices, Sony didn't let its avid users down in terms of features. Users will enjoy the useful high tech perks of the Micro Vault USM-H which includes File Rescue, x-Pict Story Software, Quick Drive Identification, Picture Motion Browser and the Micro Vault Virtual Expander Software. These features give convenience and ease in exchanging data with others (even between Windows and Mac), and store pictures like a digital album or personal data away from public computers.
File Rescue is probably the most useful of its features because it allows user to recover accidentally damaged or deleted files with a 90% recovery rate. X-Pict Story is image slideshow software that requires registration before gaining access. The Quick Drive Identification enables the device to assign a unique name to the device, allowing quick recognition. The Picture Motion Browser makes it easier for users to upload slideshows on sharing sites such as YouTube.
Finally, the Micro Vault Virtual Expander Software compresses files before moving to the Micro Vault so you can store up to three times as much data. This software is only compatible to Micro Vault models USM-LX, USM-L, USM-J and USM-H and with OS such as Windows Vista, XP (SP1 and higher) and Windows 2000 (SP3 and higher).
Sony's Micro Vault style supports USB 2.0 and is therefore compatible with netbook, notebooks and PCs with working USB ports. When the USB starts to transfer, it displays a glowing yellow green light.
The new USB drive will also come with a soft carrying case included in the package.  Expect the Micro Vault Tiny USB flash drive's debut around the end of the month.
Would this USB drive make the cut for your digital storage?  Tell us why or why not.