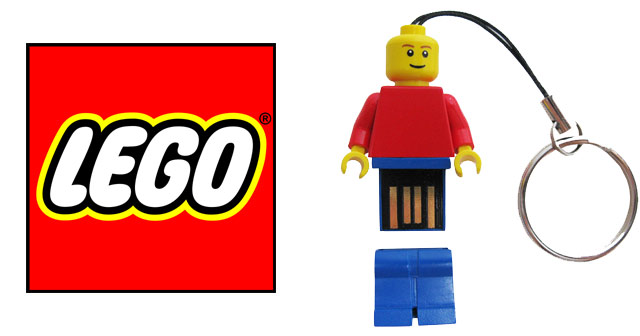 It is official—the new Lego #2856028 Minifigure USB Flash Drive has made its debut. There have been knock-offs, copies and imitations around for a while, but now we can have the real deal!
I suppose the renowned toy company finally caught on to the fact that if they built a USB Lego, we would come to buy it. So, they developed the first ever, authentic Lego USB flash drive.  It is completely adorable and cool at the same time.  The little man looks like the traditional Lego dude, just with a keychain coming out of his head!  The actual USB drive is hidden inside of the blocky, blue legs.
The detachable hands and head are nothing new, but once those legs are removed, you've got 2GB of LEGO USB storage ready for use.  Okay, so 2 gigs may not be anything to write home about by itself.  But a modest storage capacity designed out of authentic Legos is definitely something worth celebrating.
Some people feel that $25 is a little pricey, considering the amount of memory that users are getting.  But Lego is feeling confident enough in demand to put a limit on the number of exclusive Lego USB Minifigures any one consumer can buy.  Only five per customer is allowed when placing orders at the official Lego website.
The USB drive is only advised to be given to children six and up.  Children are not the big audience for these, though.  After all, what adult wouldn't want one of these exclusive flash drives?  Lego building blocks have been around since the late 1940s, so many of us grew up loving these multipurpose toys.  Now, their function is only expanding with this latest innovation.
The device itself actually works just like a regular USB flash drive.  Users still get the ability to store all of their documents, personal files, games, MP3s and photos in one, portable place.  It just so happens that the storage medium is the ultimate in fun!
Sure, there are cheap imitations available, but is the real deal worth the higher price tag to you?  Tell us whether you'll invest in a Lego USB drive!