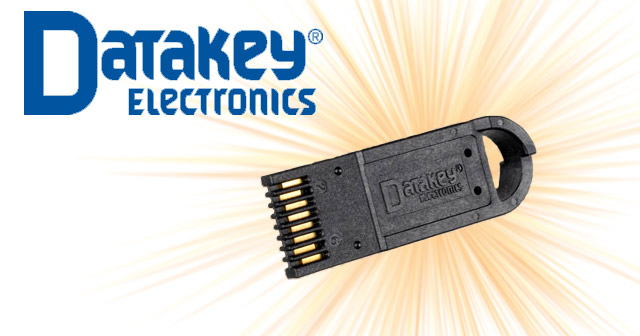 Datakey Electronics RUGGEDrive is filling a memory gap for OEM's with embedded systems.  Although SD cards and USB flash drives are widely available—thus making them very tempting memory options—they really are not the best memory choices for OEM's.  The RUGGEDrive, on the other hand, is providing a manufacturer friendly alternative which brings with it added security, high memory capacity and SD or flash drive functionality.
SD cards and USB drives are great resources for the average consumer, but they are not great tools for use in harsh environments.  An actual OEM USB flash drive, such as the RUGGEDrive USB, is created specifically to withstand shock and vibrations, salt fog, sterilization chemicals and extremely hot temperatures.   That is just the tip of the high-stress iceberg that these devices can handle.  On the other hand, consumer memory options are not built for this kind of strain, but are rather designed to be compact and convenient.
Also, it is interesting to note that the Datakey USB drive family can withstand up to 50,000 cycles.  A standard USB flash drive can typically handle 1,500 cycles, while the SD card tolerates a mere 10,000.  The clear choice for OEM's compatibility lies within the Datakey Electronics RUGGEDrive line.
There are two memory tokens available at this time, both in 4GB, 8GB, 16 GB and 32 GB capacities.  The first is the DFX Memory Token.  Its interface is secure digital, which includes SPI Mode.  The second is the UFX Memory Token.  It has an USB 2.0 high speed interface.
Both of these devices are built to mimic the desirable functionality found within consumer products but with an ultra-rugged construction, high cycle life and increased security.  They also fit the field-proven Datakey Electronics Extended Slim Line form factor.
Not only does Datakey Electronics provide the actual Datakey USB device, but they also create compatible receptacles.  Only the appropriate keys can be inserted into the receptacles, so other SD cards and flash drives are prevented from possibly contaminating the OEM's device with malware.  Additionally, the drives only fit into the receptacles built for them.  Datakey Electronics deals only to OEM's, which in turn provides controlled availability. The RUGGEDrive further proves that USB technology is versatile in that it plays unique roles in a variety of fields, from our home offices all the way to manufacturing facilities.
Thoughts on the RUGGEDrive?  What features of the USB drive would you like to see in consumer products?