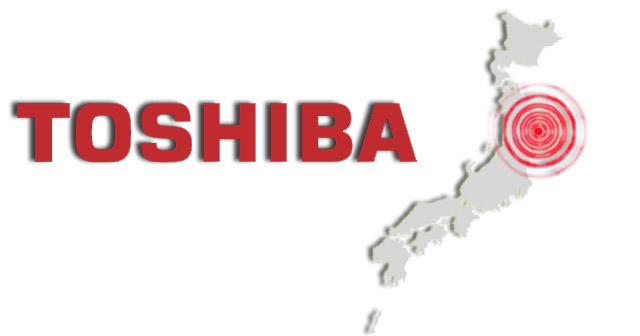 Measuring at 8.9 on the Richter scale, the March 11th earthquake off the coast of northeast Japan has thrust the Asian nation into immeasurable humanitarian and energy crises.  While the thousand of lives that were lost and the millions displaced far outweigh the rest of the impact, the global economy is also bracing for fallout.  Japan's quake caused a technology aftershock that affects more than one-third of the world's NAND flash memory, which is forecasted to directly impact supply and pricing.
Chip manufacturer Toshiba is still trying to assess the disaster's total impact on production and shipment.  The company's main plant south of Tokyo in Yokkaichi shut down temporarily over the weekend.  Toshiba's Kansai plant reported some minor damage while its facility in Iwate has experienced power outages.  With millions in Japan in the throes of rolling blackouts or complete darkness, Toshiba will have to coordinate with power companies to reduce electricity use down to the most basic functions.
Toshiba plays a vital role in the supply chain for the likes of SanDisk and Apple.  USB flash drives, memory cards and other components made by the company are crucial to smartphones and even the iPad.  To put in perspective what a lapse in manufacturing can do, we only have to look back a few months.  A momentary power outage in December for Toshiba slashed their shipments by 20 percent for approximately two months while days before the quake, a mere second long outage cost the company close to 50,000 chip wafers.
The global market's knee-jerk response resulted in an increase in flash memory spot prices up to 20 percent and Toshiba's stocks are down approximately 16 percent.  The catastrophic event is causing a current shift in favor of American-based chipmaker, Micron, which has gained between 1 and 4 percent since market opening.
Beyond the walls of production facilities, Toshiba and the rest of the Japanese electronics industry have an even larger issue to contend with:  supply chain logistics.  With countless ports closed and roads mangled, shipment by land, air and sea is still a big question mark.
According to TrendForce, "DRAMeXchange believes that manufactures will evaluate their fab equipment and make necessary repair. Although the over semiconductor production line was not severely damaged, the material supply and basic traffic reconstruction will impact more on the supply of semiconductor than production line damage. The overall supply is expected to be affected for the next two weeks due to traffic difficulties."
The impact of Japan's disaster on the NAND flash and consumer electronics industry will be unpredictable at best in the coming weeks and even months.  A close eye on the market will reveal how or when companies will lean on the world's remaining two-thirds flash memory supply.
Talk about the impact of Japan's earthquake on flash memory.  What's your forecast or analysis?