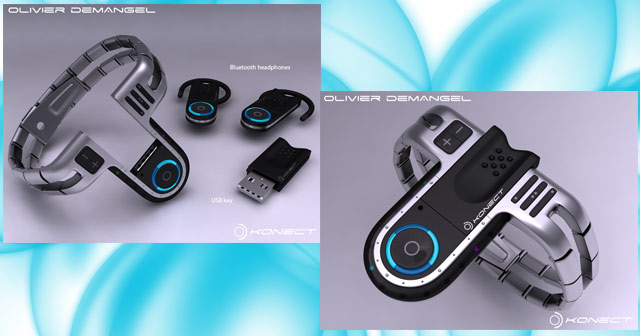 Tech lovers who drool over any USB gadget might be in for a new thrill if Olivier Demangel gets his way!  The designer of the Solaris has a new, unique prototype called the Konect USB watch.  It is in the conceptual stage, and he is trying to sell the idea to Tokyo Flash for development.  The features of this 'watch' are simply amazing, and it's all incorporated in a very attractive, futuristic setting.
Right now, consumers have the stage, front and center; Tokyo Flash and Mr. Demangel are inviting opinions and insights on the concept watch which is directly influencing whether it will be put on the market!  And, the designer himself is actually responding to the consumer's comments.
Definitely, the biggest draw of this hi-tech, "Scotty, beam me up," watch is the incorporation of a USB drive.  Demangel says he was inspired to design the USB gadget because he himself attached his flash drive to his own watch to keep from losing it.
The gadget itself is incredibly cool to look at, although it hardly resembles a watch at all.  The little blue light on the outside indicates the time, and somehow the lighter blue lights in the center are intended to show the minutes.  That function may not be exactly easy for the person wearing the watch, but truthfully, time is the last thing people are going to be using this USB gadget for.
The Konect concept watch not only has a removable USB drive built right in, but it has a host of other really awesome features.  For instance, Bluetooth is embedded in the watch, and will act as a receiver.  MP3 is a must, so like the iPod Shuffle–the Konect talks.  No matter how many songs one has, managing them is made simple.  This watch even boasts Skype capabilities.
The only major concern anyone seems to have had is the band design having a more feminine appearance.  Demangel suggests that perhaps he can use the current prototype for a woman's version, and broaden the band for men.  According to the overall comments from potential customers so far, it seems that Olivier Demangel could have a winning idea on his hands.
Give your take on the Konect USB watch.  What is your favorite feature?