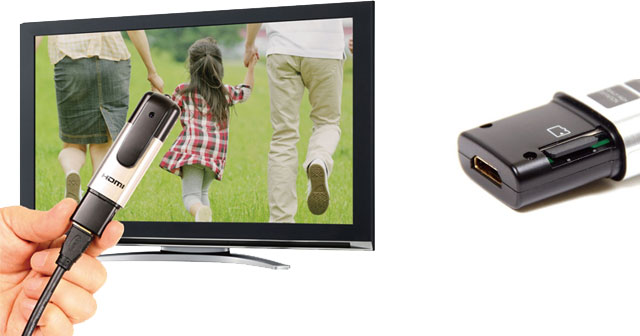 Have you ever wished those digital video cameras were a bit smaller and more portable to carry around? Have you ever wanted to have your own little spy camera but realized they don't usually produce quality videos? If you're looking for both quality and portability, you might want to check out the Thanko HDMI Video Pen HD Camcorder.
Japanese company, Thanko, has been known in the digital media industry for two things: USB gadgets and portability. With novelty products under its name like gold ingot USB hubs, as well as USB slippers, masks and gloves, the company has become an authority in transforming everyday products for USB technology.
The new HDMI Video Pen is designed to look similar to a real pen that can be easily tucked in your pocket with a handle like a pen cap, and may pass for as the normal highlighter pen for its size (and weight of 36 grams!). The Thanko HDMI Video Pen Camcorder also resembles a cross between an iPod shuffle and a USB flash drive. And what do you know? The Video Pen has a microUSB connector for uploading or downloading videos so it can also actually be considered a USB gadget!
Because of its resemblance, it may be considered a spy camera except that it boasts innovative features, including the ability to produce videos in High Definition.
Unlike other tiny spy cameras that have sacrificed quality video recording, this astonishing new technology captures 720p of videos which can be streamed on your HD flat screen TV directly through a mini-HDMI connector (HDMI cable included in the package)!
The Pen Camcorder makes use of a MicroSD that is detachable and can be swapped, recording video for up to 30 minutes (which isn't so impressive but not surprising considering it's HD).  It also takes pictures at 7.0 megapixels. The device supports a memory card of up to to 32GB or up to 10 hours of HD video at 40 MB per minute.
As far as battery life is concerned, just charge the camcorder through its USB charger for full three hours so you can keep it working for up to five hours. The videos are encoded in Quicktime (.MOV). The device has five little buttons which makes it easier to operate.
This portable and sturdy device is perfect for active individuals who are looking to maybe record their adventures while riding a mountain bike or an ATV. It is also ideal for students and journalists who are most likely to have impromptu interviews and would appreciate a portable video recorder for better documentation. Nonetheless, it is perfect for anyone who wants to add both portability and novelty to their video experience.
The Video Pen can be bought at $120 but that price does not include the SD card.
Are you going to get one of these Video Pen Camcorders? Don't forget to share your thoughts!