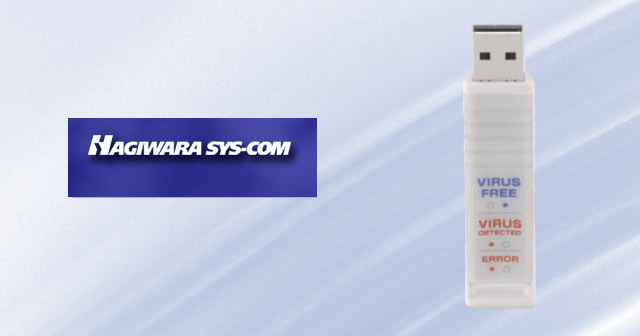 Surprisingly, one of the reasons for the slowed production of industrial businesses is due to computer virus infection, contracted through a system's USB ports.  Hagiwara Sys-Com, a California-based semiconductor company, has developed the Vaccine USB to combat the problem.  Basically, this device is a flash drive that uses antivirus software to check for infection.  It boasts a capacity large enough for a scan application, definition files as well as utility and scan logs.
One concern for some was the fact that the portable virus detection works with Auto Run, which has lately received Windows updates that disable the launch altogether.  However, Moto Watanabe, a Hagiwara product manager, explained that this will not interfere with the function of the Hagiwara Sys-Com Vaccine USB drive because of the maintenance of these kinds of systems.
"This product targets Windows-based industrial computers that support Auto Run and we see that there are still many of them in operation because these systems are rarely patched or do not receive security fixes once they are deployed on the factory floor."
The fact that a USB peripherals manufacturer has designed this revolutionary breakthrough in Windows OS-based industrial system's security is a misnomer for some.   The Vaccine USB does not eliminate malware in the same way as antivirus software because the results could be potentially disastrous.
Instead, the flash drive's application uses McAfee along with the system's threat database to vet out malware.
"From an operational perspective, this product is an on-demand virus scanner tool and does not provide a real-time virus monitoring," Watanabe said.   "It is configured not to automatically delete viruses and infected files as default because deletion of a single file could cause a fatal system error in industrial computers and may result in costly damage to complex machine tools."
The device's USB virus detection works well because it is self-contained, which protects the manufacturer warranty for the user.  This feature also keeps the host system running as efficiently as possible.  The results on the Vaccine USB are simple to read.  The blue light indicates there is no malware, while red shows that there is.
Hagiwara has certainly provided a much needed option to the industrial world through USB technology.  It is an ideal medium because USB ports have been available on industrial systems for over a decade.
Check the company's site for pricing information.
What's your take on the Vaccine USB?