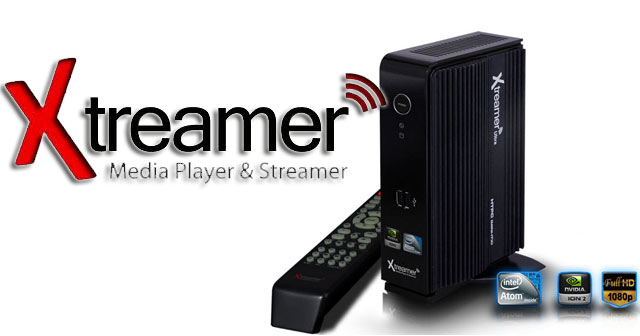 Media streamers have come a long, long way since the introduction of DVRs, thanks to media technology moguls who continue to exhaust every resource they have in an effort to create the best and most hi-tech streamer to rock your viewing experience. Here comes a new wonder streamer with looks and specs so good, it may just receive a breakthrough award!
Introducing Xtreamer Ultra, the super portable HTPC media streamer powered by a dual core Atom D525 and Ion 2 that is able to handle playing even your 1080p multimedia files crisply and vividly.
Although some may argue that Xtreamer isn't as renowned as other competitors in the field, people should not expect from it too much.  However, nothing about the "Ultra" suggests low quality. In fact, the Xtreamer USB media player is fully geared with a DDR3 memory of up to 4GB, HDMI/DVI outputs, eSATA socket, Bluetooth and WiFi capability, gigabit Ethernet, and IR control. If you're looking to plug in your Blu-ray drive, it shouldn't be a problem because the device is upgradeable! The device is also compatible with Air Mouse Elite and the mini-rechargeable LI-ON keyboard mouse.
On top of these features, Xtreamer Ultra comes up with an awesome 6 USB ports! (Yes, you heard that right). The USB TV tuner is also equipped with an antenna.  Together these USB features are able to handle all your peripherals at once.   As a result you can imagine all of the multitasking and storage capabilities that are possible.
However, this USB media player does not have its own OS. This isn't totally a bad news as it means you can practically load up whichever OS you choose to, even Boxee, the OS of Boxee Box, Ultra's ultimate competitor.
It looks as if Xtreamer Ultra will be giving Boxee Box a run for its money. Boxee Box, which has been in the market for quite a while now, has been the center of attention in the media streamer world. (Here's a little head to head comparison to give you an idea if you should wait for the Ultra or go for the already available Boxee Box).  The connectivity is vital to any media streamer so it's not surprising that the two are extremely equipped.
Xtreamer Ultra is powered with a dual core 1.8 GHz Intel Atom D525 and provides you with 4 GB of DDR3 memory while Boxee Box has employed the help of Intel CE4110 with 1.2 GHz Intel Atom CPU and offers 1GB of RAM and 1 GB of NAND.
Boxee Box comes up with an HDMI output 1.3, optical audio (S/PDIF), RCA analog stereo, two USB ports, SD slot, and 100Base-T Ethernet. On the other hands, Xtreamer features HDMi 1.3 output, DVI, VGA, 1000Base-T Ethernet, 6 USB ports, optical audio (S/PDIF), eSATA and mic input. In this category, the Xtreamer media player gets the runaway victory, especially in terms of USB technology.
Finally, in terms of graphics, the Boxee Box uses a PowerVE SGX535 integrated graphics processor while the Ultra comes with  the nVidia Ion 2, a GTS 218 40nm based GPU with 512MB of DDR3 memory.
With all its capabilities, we wouldn't be surprised to see you lured into this high technology courtesy of Xtreamer. That is, if you're willing to shoulder its introductory price of approximately $325 to have one.
What do you think about this device? Would you buy Xtreamer Ultra over Boxee?  Let us know your thoughts!