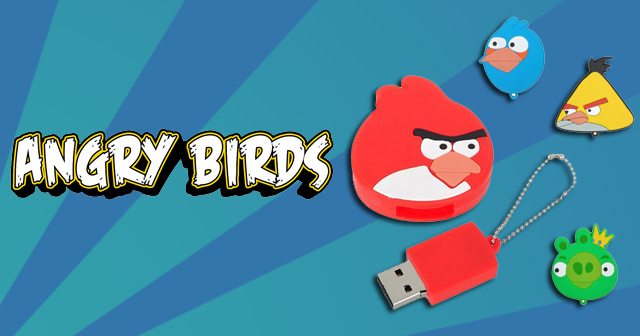 Although it appears that the new Angry Birds USB flash drive products may not be properly licensed, it might be a good idea for Rovio Mobile to take a lesson from Deal Extreme (who is offering the product).  These little babies would be excellent long-term promotional flash drives.  What better way to become a part of gamer's everyday routine than by flashing the Angry Birds brand every time they save something from their PC or Mac?
The Angry Birds game first became available in December of 2009 via Apple's iOS.  Since then, the game has been downloaded more than 100 million times.  The game, which centers around talented wingless birds defeating the pigs on the ground, is arguably the most popular mobile game on the market.
The Angry Birds flash drive represents all but two of the birds (the eagle and boomerang) and four different pigs in three different storage capacities.  Not all of the birds and pigs are available in all of the sizes, which are 2GB, 4GB, and 8GB.  Only the red bird is available in all three sizes.  Prices range from $10.80 for the smallest flash drive to $21.80 for the largest.
The flash drives come with a keychain to make them easier to keep up with.  The product is made from soft silicone, and the actual thumb drive nests inside of the larger bird design.  It is plug-and-play ready, and boasts the high speed transfer performance of USB 2.0.
The game's fans are going to go crazy over the Angry Birds USB flash drives.  You can collect them all or give them as gifts.  Each and every time you plug in your drive, open your car door or use your gym keys, you'll be putting a new kind of anger into everything you do!
Do you think custom shaped USB drives are another good way to participate in the Angry Birds craze?  Comment below!
UPDATE: The Angry Birds drives are no longer available from DealExtreme. It looks like officially licensed Angry Birds USB flash drives are now available from EMTEC.