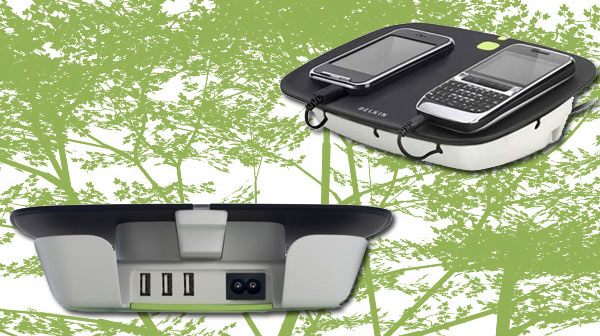 There's nothing wrong with carrying a lot of gadgets all at the same time, of course, as long as you can afford them.  However, you may have known by now how these gadgets can eat up a lot of energy! Even worse, it's hard to estimate how many hours you need to fully charge a device, so you end up undercharging it, or overcharging it. The latter does not only reflect on your electricity bill but also endangers the life span of both your charger and your gadget. For all these charging issues, you can thank Belkin for coming up with a solution.
The Belkin Conserve Valet USB Charging Station offers a smarter and greener way to power up your devices, with an ideal design that represents multiple functionalities.
First off, the Belkin USB Charger allows you to conveniently charge all your devices in one place, with four USB ports where you can charge four devices simultaneously through a USB cable. The package comes up with 6" micro-USB and 6" mini-USB cables so you don't have to worry about not bringing your own when you use it away from home.
The Belkin Conserve Valet also cuts down on your electronic clutter. The charging station is specially designed so that users can simply wrap cables around the central column and therefore, avoid tangling with each other. Just remember that when you unplug them, you start off with the gadget whose wire was last wrapped around the USB charger. The top part of the device is flat rubber, so you can place all your charging devices on it neatly.
The most important feature of the Belkin USB Charger (and probably its best selling point) is that it offers a gadget-friendly and environmentally-friendly way of charging devices. Designed with a timer that automatically shuts off it off after 4 to 4.5 hours, the Belkin Conserve avoids overcharging your gadget so you're ensured that you don't harm your battery. This is contrary to the traditional charger whose mechanics are negatively affected when left plugged in for long hours.
It works quite simple. Once the start button is pressed, a light indicates that Belkin USB charger has started charging. However, since the device shuts off after 4 hours of charging, if you have already started and decided to charge a device 2 hours later, that device will be charged for only the hours left, whether it gets full or not. On the brighter side, Belkin ensures that when turned off, the device uses zero power!
We think Belkin did a pretty awesome job in creating a device relevant for today's electronics users. It will be versatile at home, in the office, even in meetings and conferences. The Belkin charger is priced at about $40 with a 1-year limited warranty.
Own a Belkin Conserve Valet USB charger? Like it or leave it?  Share your comments below!