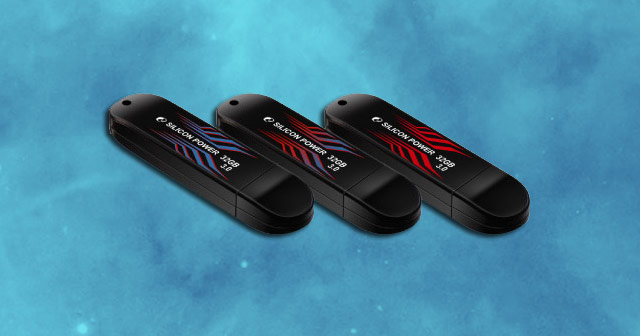 The Silicon Power USB 3.0 Blaze B10 flash drive is the mood ring equivalent of the memory world!  Not only does this groovy thumb drive offer great speeds, it also offers a unique style statement.
Silicon Power is a worldwide flash drive manufacturer, and they are now offering not only a powerful USB 3.0 flash drive, but also a way to show off a person's creative flair.  The color changing USB flash drive has a Turkish blue geometric pattern emblazoned on the front.  However, it's not going to stay that way for long.
Use the Silicon Power Blaze B10's true plug and play capability, and watch the geometric pattern get fired up right along with the operating system!  The pattern is actually drawn in heat sensitive ink; therefore, the hotter the system it is plugged into, the more red it becomes.
As if the cool factor of the Silicon Power flash drive wasn't enough, it does have more to offer than just looks.  This flash drive also has substance—it presents a read speed up to 70 MB/s as compared to a conventional USB 2.0 interface clocking in at about 480 MBps.  It comes in 8GB, 16GB and 32GB options.
Silicon Power also throws in a lifetime warranty.  That is nothing to laugh at because this flash drive is good for approximately 10,000 cycles.  It weighs in at a mere 9.5g, and is completely compatible with USB 3.0, 2.0 and 1.1.  The Blaze B10 flash drive supports Windows XP, Windows Vista and Windows 7.  In terms of Mac operating systems, it supports the 10.3x and the Linux 2.6x.
There is also a Silicon Power widget software that is offered for free with qualifying purchases which provide 7 different backups and security functions.  Also, a 60-day Norton Antivirus Software download is available.
It used to be that technology was more about function than form, but now the aesthetics are catching up with higher transferring speeds and great functionality.  Silicon Power's Blaze 10 USB 3.0 flash drive offers both the style and the efficiency that we are beginning to not only want but to also expect.
Do you think a heat sensitive ink design is the kind of trend you can get on board with?