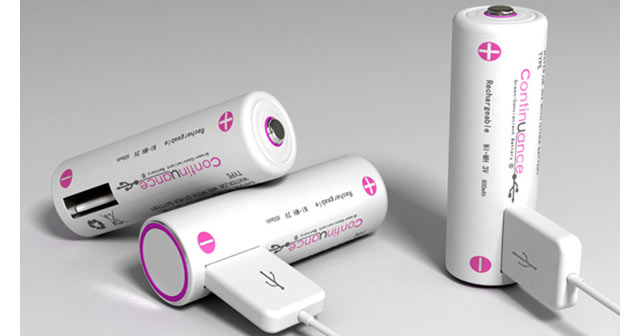 Some designs seem so good and innovative that all you'd like to do once you see them is buy them instantly. However, and unfortunately, not every wonderful design is practical and user-friendly. Consider looking at one of the newest masterpieces on Yanko, the Continuance USB AA Battery, whose design gets a 5 out of 5 rating, yet remains questionable when it comes to practicality.
The Pros
Designers Haimo Bao, Hailong Piao, Yuancheng Liu and Xiameng Hu have painstakingly designed the new USB battery. This USB battery is equipped with 4 gigs of flash memory and poses a new look to the traditional AA battery by adding up a simple USB port to handle your USB charging needs. The Continuance Battery will allow devices such as mobile phones, mp3s and iPods to charge using a USB cable while allowing it to also be recharged via a USB connection.
An iF concept design entry for 2011, the design remains a concept up to now so no one can really tell how effective or ineffective the Continuance USB will be. Nevertheless, the designers are already facing multiple queries from critics and consumer themselves whose curiosity about the USB battery concept is at a peak.
The Cons
It looks good for a battery, a little awkward, but yeah, it's a good-looking battery. But looks can really be deceiving considering the most common question faced by Yanko today: is it practical to use?
What will the capacity of the battery be with a USB port taking up that space? Critics say it will definitely have less capacity since the USB battery will need a "step up converter" to transform the voltage inside. Even when it's not in use, the step-up converter will still consume energy and thus, once you plug your USB cable to charge your gadget, the battery will not have enough energy to fully-charge it.
Some industry experts argue it can make your gadget run for a little bit but not really energize it well enough to keep it up. What's the end product—frustration for the user? The concept aims for convenience but sadly, it didn't seem to aim for practicality.
And although it seems that the Continuance USB AA battery's concept is very original, it isn't entirely so. A few years ago, Moixa released the USBCell Battery which is a rechargeable AA battery that has a male USB on one end. Yanko's design, it seems, takes the functionality of a USB battery just a notch higher than that of Moixa.
Do you think the designers from Yanko can pull off this idea? Don't forget to share your thoughts!