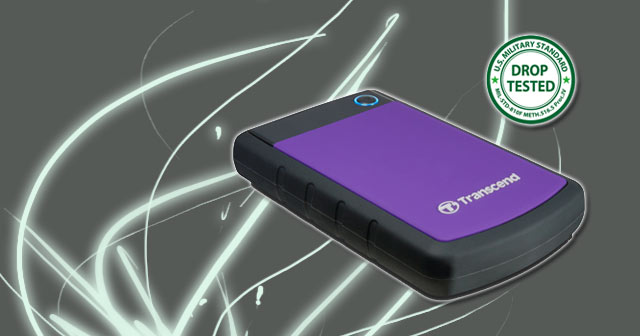 Has your PC or Mac gone ballistic over the hundreds of movie files you've stored recently? Is your computer slowing down because these movies are eating up its memory? Does the thought of erasing some of these movies make you cringe? We understand just how much you're infatuated with your favorite movies and files, and you know what? You don't really need to let them all go if you don't want to.
Meet the solution to your storage problems.
Introducing the USB 3.0-powered Transcend StoreJet 25H3P and the standard USB 2.0 Transcend StoreJet 25H2P—two new hard drives each boasting an enormous 1 terabyte of storage capacity. Both Transcend hard drives offer a viable solution to your data transfer and storage needs.  Additional features make them more efficient than some other hard drives on the market today.
Sleek and totally portable, the bright purple exterior design of the SATA hard disk drive may appear to users as mere aesthetics but actually functions as an anti-slip rubber enclosure. The hard, shock-proof silicone casing of these external hard drives has also been reinforced to ensure that any impact is evenly distributed.  The hard drive's internal suspension damper is made to ensure complete internal protection. That's three levels of protection for a priceless rugged gadget! What's more, Transcend has guaranteed that the hard drives have passed extremely rigorous U.S. military drop tests.
The newest addition to Transcend's line of SuperSpeed devices, this new USB 3.0 hard drive is an ideal choice for all data-lovers who spend their hours downloading or storing hundreds and thousands of files. With a USB 3.0 interface, the StoreJet 25H3P has transfer speeds of up to 90 MB/s, which means that a whole DVD movie can be transferred in just 60 seconds! And with a storage capacity of 1 TB, you can hold around 200 of your favorites. The USB 3.0 HDD is also backward compatible so you don't have to worry about finding a USB 3.0 port. It retails for $205.
But if you're looking for the same highly protected drive, and high memory storage solution at a cheaper price, the StoreJet 25H2P may be a great option. At a more affordable price of $185, you can have a solution to your computer memory problems without breaking the bank.  This model uses USB 2.0, so it's guaranteed to be compatible with your current operating system.
Other amazing features of Transcend's plug and play hard drives include the advanced new Transcend Elite data management software, which enables users to keep their digital content in order, secured and updated; and a One Touch auto back-up button, which conveniently allows users to sync data with their home computer in an instant. Both hard drives also carry Transcend's three-year warranty. They work perfectly with Windows 7, XP and Vista, as well as with Linux Kernel 2.6.31 or later versions and Mac OS X 10.4 and later versions.
What can you say about the new Transcend hard drives? Do you think the USB 2.0 drive can work easily with 1TB of storage?  Don't forget to post your comment!