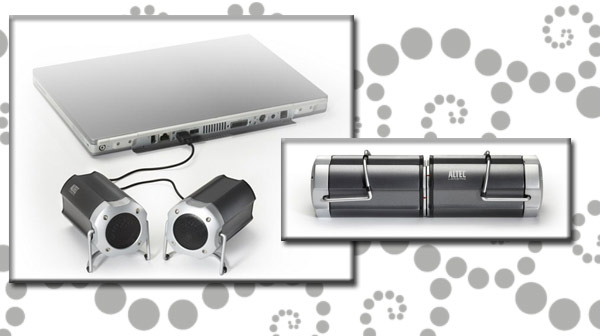 My current speaker plays my music perfectly inside my room and I don't have to worry about the buzzing sound when I turn the volume to its maximum. But it's a little too big to carry around and put in my backpack, and with the kind of person that I am, always up for adventures and traveling, it doesn't seem to be my ideal fit. So in preparation for some beach-bumming this summer, I searched for the most portable quality speaker in the market and Altec Lansing's new innovation looks like it could be my perfect match.
I'm talking about the new Altec Lansing Orbit USB Stereo, a highly portable pair of speakers with a unique, compact design that should accommodate the music needs of multimedia users who are always on-the-go. With a design that looks similar to a camera lens, it's easy to place inside a travel bag or purse without taking up too much space. Moreover, it eliminates tangled cables as the Orbit USB speakers have hidden internal cord storage where you can keep the wires.
The Altec Lansing Orbit USB Speakers are made up of two speakers connected via an audio cable. Unlike old versions of laptop speakers, these are USB-powered so you don't have to worry about buying those rechargeable batteries that take hours of charging and thus, create delays in presentations and meetings. With nearly every laptop and computer using USB ports, the speaker's USB feature makes it compatible with your system. Plug it and play it without the need to look for an electrical power outlet.
Altec Lansing has ensured that its new stereo is going to be user-friendly. Just simply twist apart the camera lens-looking design and then connect it to a computer or laptop via USB. When you're done, put the speakers together and lock them up, and you're all ready to go.
However, if you're looking for the speaker with the highest audio quality, these USB speakers may not be exactly what you're looking for. Although it gets an additional point for having retractable stands so you can aim the sound to a direction you desire, some users claim that a buzzing sound may surface when its volume is turned to the max. Could it be that the top audio manufacturer overlooked the number one feature of speakers—producing quality audio?
At a retail price of $49.95, we expect the Altec Lansing Orbit USB stereo to be a little better. Nonetheless, if you're a businessman, a professional or just a music lover on-the-go, the Orbit USB speakers can still do a lot of good for you.
Is the functional design of the Orbit USB Stereo speakers enough to convince you, or do you prefer something else for your laptop?