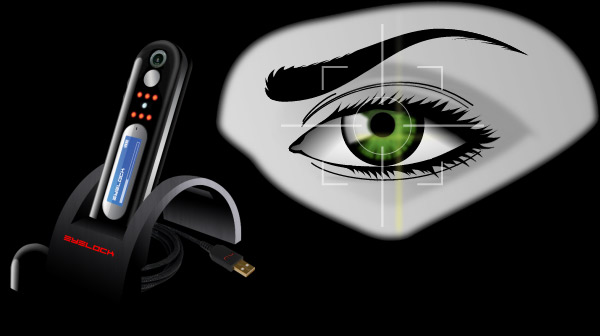 Espionage has always carried a certain appeal in our imaginations. Personally, when I first heard about the new Hoyos EyeLock USB gadget, I instantly thought of Charlie's Angels, Minority Report, 24 and Alias, and just how much fun I would have imagining myself getting into the most clandestine places and having access to the most top secret files. Now, this innovation from Hoyos brings a little of that thrill to the everyday consumer.
Hoyos, a New York-based company which specializes in digital identity protection, claims that the new Hoyos EyeLock is the first and only portable iris-scanning device available to consumers today. Basically setting the functionality of finger scanning aside, this device enables greater computer and internet security by scanning the eye of the user, specifically the iris. This process called iris recognition enables the user to gain access to online sites without having to enter their passwords.
The gadget, which barely weighs 4 ounces, even makes use of USB technology to make it even more appealing.  Anyone with a PC or laptop that has at least one USB port can definitely take advantage of this unique product. The EyeLock comes in the form of a USB flash drive with a size similar to that of a standard business card so it's totally portable and functional!
For all of its cutting edge allure, the iris recognition USB gadget works rather simply. Just insert the USB flash drive in the USB port then install the software. From there the program lets you choose which applications or sites you want to protect.  Then, the scanner passes in front of your eye to take a snapshot of your iris to confirm your identity. The person with the iris on the snapshot will gain exclusive access to the sites or applications.
And since Hoyos has promised that the device is cannot be hacked, it is perfect for users who treasure the privacy of their accounts.  Every time the user logs into the account, the EyeLock reads the person's iris and creates a series of numbers comparable to a unique key. This key changes every time the user logs in making it totally, as Hoyos claims, impenetrable.
The only disadvantage (which could also be an advantage under some circumstances) is that the EyeLock has to use a living eye. So an important file, for instance, would be inaccessible to everyone if the user passes away.
The USB gadget is expected to hit the market sometime this year and will be sold at a fair price of $99 – not bad considering its performance!
I am giving this device a 10 for its functionality, and another perfect 10 for its simple yet classy look!  What score would you give the new Hoyos Eyelock?  What do you think of this spyware come to life?