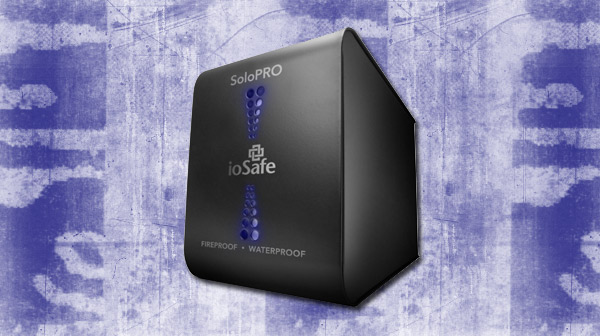 There was once an unfortunate time when I left my priceless USB flash drive inside the pocket of my jacket. My mom, with the habit of immediately sending worn clothes into the laundry, found the jacket on my bed and washed it without checking its pockets.  Long story short, the next day, I bid goodbye to my beloved USB.  What's worse, I had to mourn over the loss of my most important files which were washed away as well.
Times like these, I really wish there was a storage device that could withstand the elements.  With the ioSafe  SoloPRO my wish has come true.  Moreover, ioSafe decided to upgrade the device to a USB 3.0, which promises even more reliable, efficient and speedy storage data transfer!
Perfect for professionals who take their important files with them, the ioSafe SoloPRO USB 3.0 drive has been designed to keep data backed up all the time while enduring fire and water.  The SoloPRO, indeed, boasts DataCast endothermic fire insulation technology which can take heat of up to 1550 Fahrenheit degrees for 30 minutes, and the HydroSafe water barrier technology allows it to be submerged in 10 feet of water for 3 days. Meanwhile, for active airflow cooling, the device is equipped with FloSafe airflow cooling technology!
The waterproof hard drive is equipped with eSata connections.  Additionally, ioSafe's USB 3.0 connections ensures high-speed data transfers that are four times faster than USB 2.0. The device comes up with spacious 1TB to 3TB, the kind of storage capacities SuperSpeed was born to handle—reading and writing all the data in this device (even  when the device is full!) is at 5Gb/s.
The plug and play device works with most computer systems – Microsoft, Linux, Mac – as long as you have a USB port to stick it into. You also don't have to worry about running it on a USB 2.0 port since the ioSafe SoloPRO is equipped with backward compatibility.
So if you're one of those whose life depends on their USB storage, we highly recommend the ioSafe SoloPRO to keep your mind at peace, rain or shine. We hope that you'd never have to test its fire and water capabilities, but it's nice to have this kind of assurance in the event of a worst case scenario. Businesses such as banks and other financial institutions with loads of important data should definitely check them out for what ioSafe dubs the "ultimate back up experience."
The 3TB variant is now sold in techie stores for $499.99, including 12 months of ioSafe Data Recovery Service (DRS) should the files get damaged, accidentally deleted, failed or destroyed. If you want longer reassurance, you may upgrade to a 3-year warranty for $49 or 5-year for $99.
Like it or leave it?  Talk to us below!