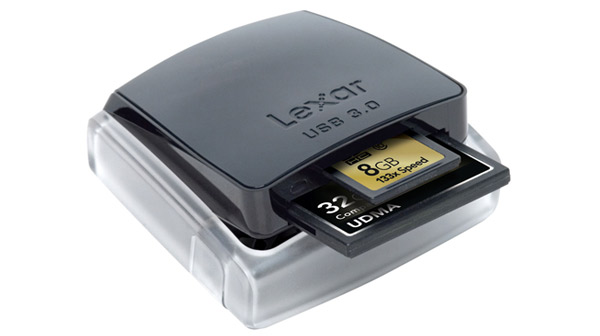 Even if I'm not a professional photographer myself, I always love taking photos and videos of everything around me. From several portraits of my family to panoramic shots of the sea, I collect these thousands of visual memories, save them in a folder in my computer before I upload them to my Facebook. I love the entire process, except for the part where I have to wait in vain while they transfer from my camera to my PC. This is why I'm totally psyched with the new Lexar Professional USB 3.0 Dual-Slot Reader, the fastest card reader available on the market today.
The new USB 3.0 card reader from Lexar is what every professional photographer and videographer may dream of. Building off an innovation of a similar USB 2.0 version from 2007, this newest model is equipped with a 500 MB/s port and dual card slot that's compatible with Compact Flash UDMA, SDXC and SD UHS-I card formats aside from the epic Compact Flash, SD and SDHC memory cards that its predecessor used to handle.
We're giving it a perfect 10 for functionality and versatility, considering that the device has been designed to work well with almost all kinds of memory cards, not to mention that it allows card to card transfer with its dualist design. It also scores high marks for its portability as the device is easy to use on the go.
By wisely implementing USB 3.0, the Lexar USB 3.0 card reader is the right fit for anyone who wishes to save time on data transferring their valuable files. Using the SuperSpeed technology, there really is no doubt that this device can deliver on time and performance, as well as backward compatibility for those who need it.
Lexar has tested it, and has found that this baby can fire up data transfer up to 6 times faster than the older USB model. This means all your HD videos and high-res images can be transferred to your PC in a matter of seconds.
Like the older model, the device comes in a box-like plastic pack with a protective pop up hat you can easily open and close when not in use. This design keeps all ports away from dirt when the memory card reader is not being utilized.
We know you want it as much as we do. We heard it's going to be out in the market for $49.99 next month.
What do you think of the new Lexar Professional USB 3.0 memory card reader? Is it a go, or a no? Don't forget to tell us why!